Our Last SPLASH!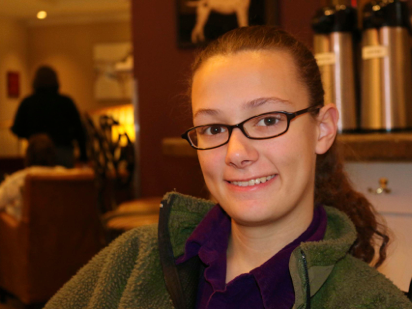 I have brought our kids to this weekend of classes at MIT the weekend before Thanksgiving for thirteen consecutive years. It has long been a highlight of our year, and I can't believe this is the last one!
We stayed again at the Kendall Hotel with it's close proximity and great breakfast, and dined as traditionally at Legal Seafood. This year I discovered a cool roof garden across the street; it is amazing to think of trees growing on top of buildings!
Check out my past blogs related to SPLASH here, here, and here.
Also check out Laura's weekend class schedule (favorites starred):
Saturday:
10:00 -12:00 Cram Session Covering of all of Undergraduate Math
1:00 – 3:00 The Physics and Optics of Ultracold Atoms *
3:00 – 5:00 Nuclear Weapons Technology *
5:00 – 6:00 Quantum Cryptography
7:00 – 8:00 The Evolution of Vertebrate Flight *
8:00 – 9:00 Introduction to Thermodynamics
Sunday:
9:00 – 10:00 The Age of the Universe
11:00 – 12:00 The Tennis Racket Theorem *
1:00 – 2:00 Astronomical Imaging
3:00 – 4:00 How Lithium Ion Batteries Work
4:00 – 6:00 Wormholes *
I love how exuberant and thrilled our children are after this weekend. I shall miss this special time in future years!
I am so grateful for all the opportunities that SPLASH has afforded our children to learn great stuff and to pursue their interests… Thank you!