The Post (Movie Review)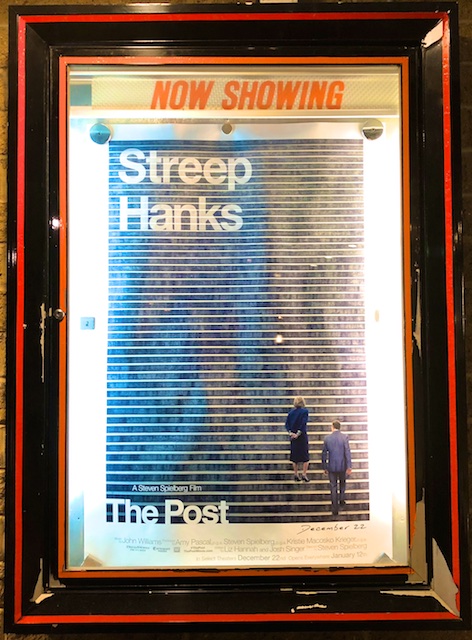 Last night we saw the movie The Post staring Meryl Streep and Tom Hanks, and we loved it. I give this new Steven Spielberg film 5 stars. With current new sources under siege, this topic feels as timely as ever.
The movie is about top secret Pentagon papers regarding the historical background of the Vietnam War that are leaked to the press. Kay Graham (played by Streep), is the owner of The Washington Post, and she has to decide whether or not to print them. This is a quiet, mildly suspenseful drama of hard choices, the First Amendment, lack of government transparency, and the courageousness of fulfilling one's moral duty. The fact that this all fell on a woman in the seventies is what makes the story particularly shine.
My favorite moment is when Kay Graham walks out of the Supreme Court, and all the men are huddled around the microphones, and Kay quietly walks down the steps flanked by awestruck women, who silently, almost reverently, watch her as she passes. I have a good idea what it is like to work completely surrounded by men–although I wasn't doing it until a decade later– and I admire the gumption of this woman, who rose to the occasion regardless of the pressures to the contrary. It was enjoyable watching her own her own power on the side of right.
You might not want to miss seeing this one!