Recipe: Cornbread with Sprouted Flour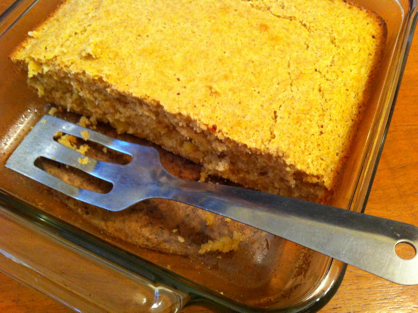 As discussed previously on this blog, I've been working on recipes incorporating Sprouted Spelt Flour.  This cornbread is a keeper. It is delicious! 
Note:
You can buy "yogurt cheese" at the store but you can also make your own by draining all the fluid out of plain yogurt (we use organic Greek yogurt) through a yogurt strainer or cheesecloth in your refrigerator for 24 hours. This tastes mellower and is yummy on all sorts of things.

Be sure to use organic corn meal to avoid eating GMO's.

In the bottom photo this cornbread is paired with

Vegetable Soup with Swiss Chard
Sprouted Spelt Cornbread
1 cup sprouted spelt flour
1 cup yellow cornmeal
1 tablespoon baking powder
1/2 teaspoon salt
1/2 cup maple syrup
1/4 cup yogurt cheese
1 cup water
1 large egg, lightly beaten
4 tablespoons melted butter
1/2 cup corn kernels
Preheat oven to 375˚F.
In a large bowl, mix flour, cornmeal, baking powder, and salt.
In a small bowl combine syrup, yogurt cheese, water, eggs, butter and corn.
Mix both together until just blended.
Pour into a buttered 8-inch square pan.
Bake until bread springs back when gently pressed in the center, about 18-30 minutes.
Enjoy!