Recipe: Avocado Eggs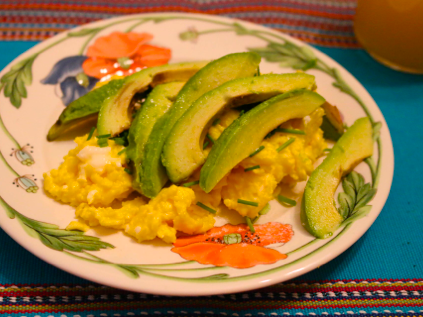 This is a rather no-brainer meal I've been doing just recently and it is delicious: great for a hearty breakfast or simple, light dinner. Shown below is how to make it for one person, but it can easily be multiplied for more.
a pat of organic butter
3 eggs (or two extra large)
1 Tablespoon creme fraiche
a small handful of chives, chopped small
1/2 a small avocado (or 1/4 of a larger one), sliced
sea salt
fresh ground pepper, if desired
Scramble the eggs and add the creme fresh, scrambling again. Melt a bit of butter in a non-stick pan over medium low heat. (These are better cooked slowly.) Cook –stirring frequently to avoid sticking and to get the creme fresh well mixed in– until done; I like mine on the soft side. Transfer to a plate. Sprinkle the chives on top, then place the avocado slices over that (they will slightly warm in contact with the eggs), followed by the sea salt.
Eat immediately. Yum!