My Newspaper Article: New Beginnings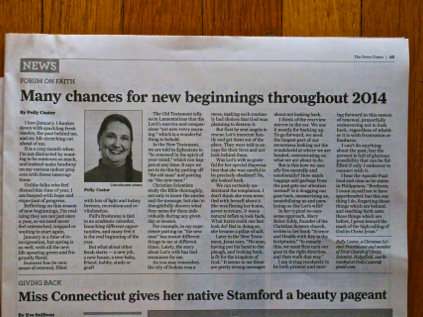 I am a regular contributor to the Danbury News Times Forum on Faith column, which is also picked up by the Connecticut Post and the Stamford Advocate.  You can read the article online here and here and here or read it below:
Many Chances for New Beginnings Throughout 2014
I love January. I hunker down with sparkling fresh resolve, the past behind me, and my life stretching out ahead of me.  It is a cozy month where I'm not distracted by wanting to be outdoors so much, and instead make headway on my various indoor projects with fewer interruptions. Unlike some folks who feel dismal this time of year, I am buoyed with hope, and expectant of progress.
Reflecting on this season of new beginnings, I'm realizing they are not just once a year, so we need never feel entrenched, trapped, or waiting to start again.
January is a time of reinvigoration, but spring is as well, with all the new life spouting green and fragrantly floral.  Summer has it's own sense of renewal, filled with lots of light and balmy breezes, recreation and revitalization.  Fall's freshness is tied to an academic calendar, launching different opportunities, and many feel that is the real beginning of the year. But what about what about other fresh starts, like a new job, or a new house, a new baby, friend, hobby, study, or goal?
The Old Testament tells us in Lamentations, that the Lord's mercies and compassions "are new every morning," which is a wonderful thing to behold.  In the New Testament, we are told in Ephesians to "be renewed in the spirit of your mind," which can happen anytime. It says we are to do this by putting off "the old man" and putting on "the new man."
Christian Scientists study the Bible thoroughly, not only to know the stories and the message, but also to thoughtfully discern what they mean for them individually, during any given day or season. For example, in my experience, putting on "the new man" has meant different things to me at different times.  Lately, the story about Lot's wife has had resonance for me.
As you may remember, Sodom was a mess, making such routinely bad choices that God was planning to destroy it, but first he sent angels to rescue Lot's innocent family and get them out of the place. They were told to escape for their lives and not look behind them. Was Lot's wife so grateful for her special dispensation that she was careful to be precisely obedient?
No, she looked back. We can certainly understand the temptation; I don't think she even wrestled with herself about it. She was fleeing her home never to return; it was a natural reflex to look back. What harm could one last look do? But in doing so, she became a pillar of salt.
Later in the New Testament, Jesus says, "No man, having put his hand to the plough, and looking back, is fit for the kingdom of God."  It seems to me these are pretty strong messages about not looking back.
I think of the rear view mirror in the car. We use it mostly for backing up. To go forward, we need the largest part of our awareness looking out the windshield to where we are headed, concentrating on what we are about to do.  But is this how we usually live mentally and emotionally?  How much baggage and garbage from the past gets our attention instead? Is it dragging our gaze back, mesmerizing us, immobilizing us, and paralyzing us, like Lot's wife?
In her typical no-nonsense approach, Mary Baker Eddy, the founder of the Christian Science church, writes in her book Science and Health with Key to the Scriptures, "To remedy this, we must first turn our gaze in the right direction, and then walk that way."
I am trying resolutely to be both present and moving forward in this season of renewal, prayerfully endeavoring not to look back, regardless of whether it is with frustration or fondness.  I can't do anything about the past, but the present is full of glorious possibility that can be fulfilled if I only endeavor to connect with it.
I hear the Apostle Paul loud and clear as he states in Philippians, "Brethren, I count myself not to have apprehended: but this one thing I do, forgetting those things which are behind, and reaching forth unto those things which are before, I press toward the mark of the high calling of God in Christ Jesus."
By Polly Castor, a Christian Science Practitioner and member of First Church of Christ, Scientist, Ridgefield.  She can be reached atPollyCastor@gmail.com