Recipe: Mediterranean Spaghetti Squash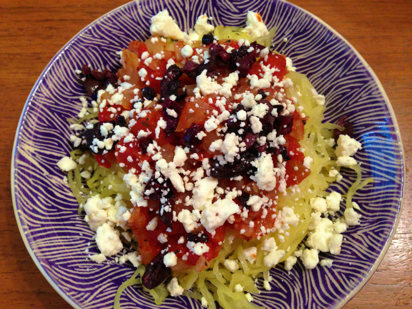 This is easy, delicious, nutritious, and satisfying. In season, you can use fresh tomatoes and basil, or like I did today, you can also use boxed tomatoes and dried basil; it is great either way. We enjoy this as a light meal on its own, but I suppose it could be considered a side dish as well.
1 small spaghetti squash, halved lengthwise and seeded
2 Tablespoons olive oil
1 sweet onion, chopped
2 large cloves of garlic, minced
1 1/2 cups chopped tomatoes
1 cup crumbled feta cheese
6 Tablespoons sliced black olives
2 Tablespoons fresh basil, chopped (or 1 Tablespoon dried) freshly ground salt and black pepper, to taste
Preheat the oven to 375˚F.
Place the spaghetti squash halves cut sides up in a baking dish, slathered with a bit of olive oil, and sprinkled with some salt and pepper. Bake for 45 to 50 minutes, or until a knife punctures it easily. Allow it to cool long enough to handle it.
Meanwhile, over medium heat, sauté the onion in olive oil until tender. Add the garlic, and cook until fragrant, 2-3 minutes. Stir in the tomatoes and basil and cook until tomatoes are a little less juicy.
Use a fork to shred the squash into ribbons. Serve the squash warm, topped with the sauce, the feta cheese, and the olives.