Recipe: Sri Lankan Sauce for Fish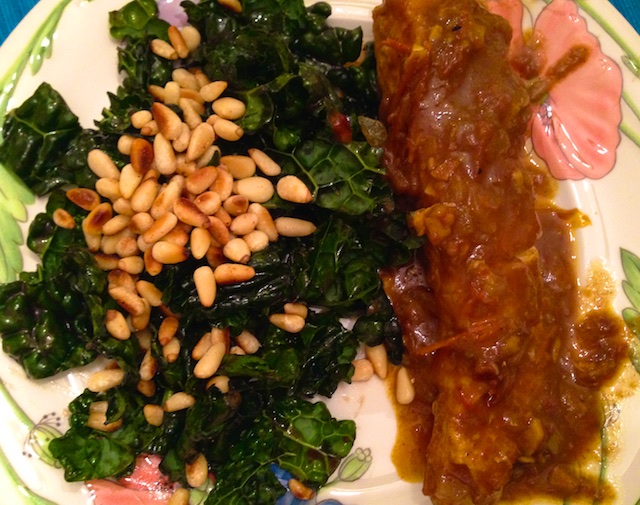 This bursts with flavor and needs something simple to accompany it. Next time I will serve it with rice and steamed broccoli, which I think will suit it better than the kale and pine nut salad we had it with last night.
This sauce is dynamic and delicious, and takes a bland protein (we used halibut) into another stratosphere. It tastes a bit like Thai food, without the peanuts. While complex in flavor, this is not at all difficult to make.
This does call for one unusual ingredient, tamarind, which makes the dish. You can see a photo of the brand I used below.
2 tablespoons olive oil
1 medium onion, chopped
3 cloves garlic, minced
1/2 teaspoon cayenne pepper
1/2 teaspoon ground coriander
1/2 teaspoon ground turmeric
1/4 teaspoon ground cumin
1/4 teaspoon freshly ground black pepper
1/4 teaspoon fennel seeds
1/4 teaspoon ground cinnamon
1/4 teaspoon ground cloves
2 tomatoes, chopped
1 can coconut milk
1 tablespoon tamarind paste
1 teaspoon of sugar
3/4 teaspoon of salt
4-6 filets of fish (halibut, salmon, tilapia, sea bass)
In a large sauce pan, cook the oil, onion, and garlic over medium heat, until soft. Add the cayenne, coriander, turmeric, cumin, black pepper, fennel seeds, cinnamon, and cloves. Sauté until evenly mixed.
Add the tomatoes and stir until incorporated. Add the coconut milk, tamarind paste, sugar and salt. Bring it to a boil, scraping the bottom of the pan. Lower the heat to a simmer, and partially cover the pan, cooking for 25 minutes.
Add the fish and continue to simmer, partially covered, until the fish is flaky but still very moist, and the sauce is thickened, about 20 minutes more.
Serve immediately.