Easter Eggs, Flowers, and Food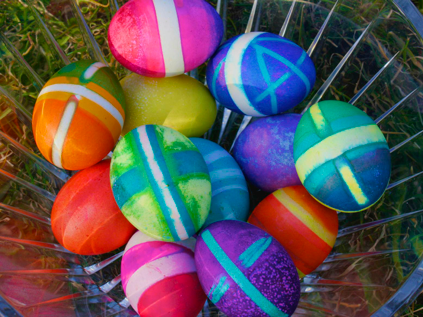 Here, you can see the Easter eggs we dyed today, only a dozen this year. We like to use the wide rubber bands saved from broccoli and leeks to get fancy cross-like layering combinations. This is always a good time! Note in the photos, too, our first crocus blossoms today, at long last.
Below I show an experiment I conducted regarding baking eggs in muffin tins at 325 degrees for 25 minutes, instead of hard boiling them in water. After giving it a try, I am unimpressed. They come out spotty and brown which washes out mostly in the cold water bath you need to plunge them in, but some remain on egg interiors, marring the final product. Also, these were very difficult to peel, unlike the claims that it is easier. You can see all this in my photos below. But while they may be ugly, they sure did taste good! And we beautified them quite nicely, don't you think? But I'll go back to boiling mine next time.
I also took some photos of Easter flowers, so unresistingly gorgeous. The lilies at the bottom are what we bought for church tomorrow. We are going to put them in this vase that I made…

And you ask what food I am fixing for Easter tomorrow? Some favorite standbys, that are delicious and easy, so I can enjoy our company. I'll make Mustard Roasted Fish, Roasted Asparagus, (the guests are bringing the salad), and I'm making Flourless Chocolate Cake for dessert at the request of my husband.

Wishing you a very Happy Easter from our home to yours. What a relief to know we live forever!