Roasted Tomato Sauce Method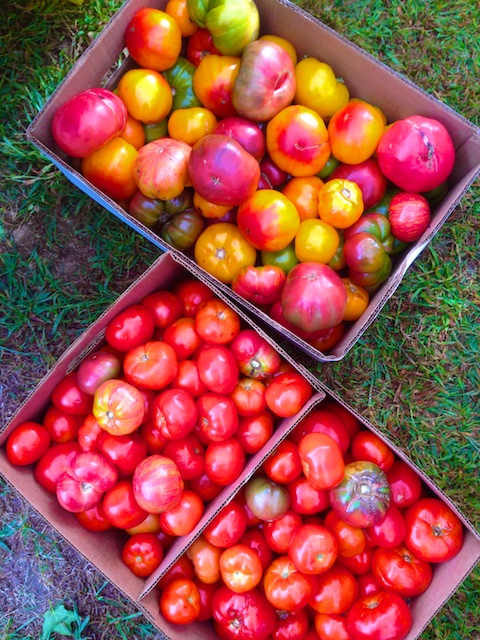 We had a lovely Labor Day Weekend with company here, and all the while we were processing tomatoes as well. On Saturday morning we snagged two huge boxes of heirloom tomatoes at the Farmer's Market for $15 each– shown above– and this is what we did with them.
This is more of a method for a base ingredient than a recipe. I give my husband full credit for this; he tried it on an inspired whim last year, and I used them up quickly, since their intense flavor made everything taste better. Since then I have been lauding their praises and begging for more, so we are putting up lots for the winter.
First we cut out any bad spots in the tomatoes, and then puree them until liquid smooth in the Vitamix. Then we roast huge deep pans of them at 300ºF for as long as it takes until all the liquid is gone and it is thick and potent, reducing in volume to 1/4 or less of the original amount. Depending on your tomatoes, the quantities, and the size of your pan, this could take anywhere from 2 to 8 hours. It is basically an all day proposition around here. Incidentally, your house will smell fabulous while you do this.
Once your tomato puree is fully roasted down, we put the paste/sauce in muffin tins to freeze them in useable chunks that we affectionately call "hockey pucks." These we remove from the muffin tins once frozen and put into ziploc bags in the freezer. They make handy amounts to take out for any recipe calling for sauce or tomato paste. Also I just throw one into a stir-fry or casserole, to make it over-the-moon amazing.
We put only tomatoes in this: no oil, no spices or salt, etc, so we can use it in the widest array of applications, seasoning it (or not) later. This stuff can really hold its own and carry the day.
I encourage you to try this with this season's bumper crop of tomatoes. Check out my photos below as a way of further explanation. We already used this sauce for our company this weekend – one hockey puck worth–on my Broiled Eggplant Parmesan with homegrown eggplants from our front yard. Yum!