Indian Style Vegetable Curry (Recipe)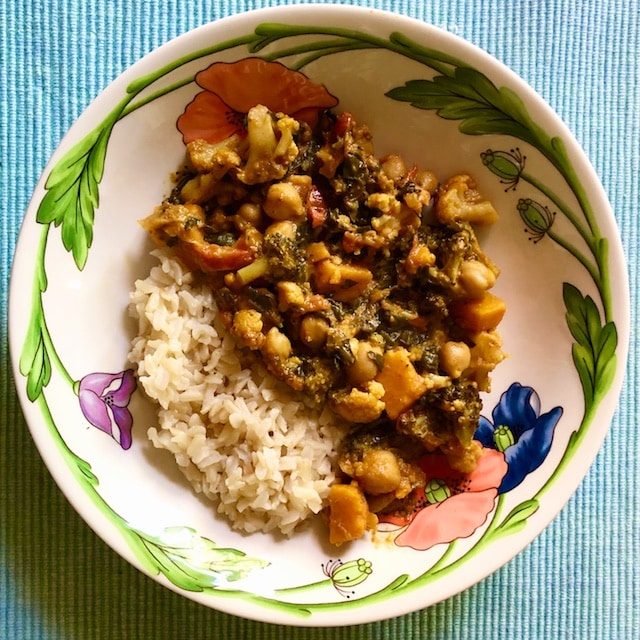 It snowed last weekend (yes, on May 9) so something warm to eat was a great idea. This recipe is adjusted from one on the food blog The Defined Dish, who I follow on Instagram. It tastes like the best of authentic take-out. Maybe not spring or summer food exactly, but this recipe is definitely a keeper to be made again and again. This is a vegan crowd pleaser to make for your gang–or yourself!– when you are in the mood for a bowl full of warm, flavorful, cleansing vegetables. It freezes well too.
It looks like a lot of ingredients, but this comes together easily. Get everything chopped and together, and then cooking it up goes quickly.
Indian Style Vegetable Curry
2 Tablespoons
1/2 cup diced shallots
3 garlic cloves, minced
1 tablespoon tomato paste (or one of our frozen roasted tomato pucks)
2 teaspoons ground cumin
1 teaspoon ground turmeric
1 teaspoon curry powder
1 teaspoon ground cinnamon
1/2 teaspoon ground coriander
1/2 teaspoon ground ginger
1/4 teaspoon cayenne pepper
1 can full-fat coconut milk
1 1/2 cups vegetable broth
3 cups cauliflower florets
3 cups broccoli florets
3 cups sweet potato (peeled and cubed)
2 medium tomatoes, seeded and diced
1 1/2 teaspoons kosher salt
1 can chick peas, drained and rinsed
4 cups baby spinach, chopped
grated zest of 1/2 lime
1 tablespoon fresh lime juice
1 1/2 cups cooked rice for serving
1/4 cup fresh cilantro leaves
In a dutch oven or large pot, heat the olive oil over medium heat. Add shallots and garlic, and cook, stirring for a few minutes.
Stir in tomato paste and spices (cumin, turmeric, curry, cinnamon, coriander, ginger, and cayenne). Cook until fragrant (about 2 minutes).
Pour in coconut milk and broth, stirring to combine.
Add the cauliflower, broccoli, sweet potatoes, tomatoes and salt. Stir and bring to a boil, then reduce heat to a simmer. Simmer for 15 minutes.
Add drained chickpeas and cook for another ten minutes.
Stir in spinach, lime zest, lime juice, and cook until the spinach is wilted, about two minutes.
Serve over prepared rice, garnished with cilantro.
Enjoy!