Lemon Cake and an American Poetry Anthology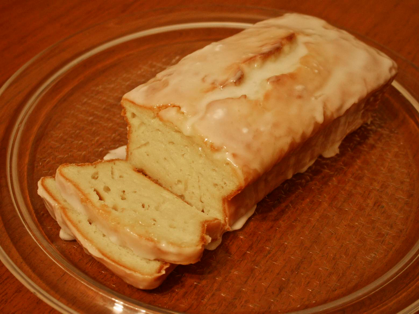 I had a pleasant Friday evening last night interspersed with intervals working in my office, making a Lemon Cake and reading a wonderful anthology of American Poetry.
The cake was made from a "Lemon Yogurt Cake" recipe in The Barefoot Contessa's At Home Cookbook.  While my family are definitely not cake people, I was after the great frosted lemon pound cake so easily available in the little Korean markets in New York City, bought by the pre-wrapped slice when I lived there.  Some are too dry or not flavorful enough, but when it is just right, you can't beat it!  I've found the Barefoot Contessa to be pretty reliable in general, and with the major labor of grating two lemons for zest I knew it would have flavor, and with yogurt as an ingredient, I knew it would not be too dry.
I worked in the office before I started this project, again while it cooked for fifty minutes, and again after it was done.  But during the final stages of this baking process, you let it cool ten minutes, then while warm, you let a lemon juice and dissolved sugar mixture soak in and then let it cool completely, after which time you glaze it with a combination of lemon juice and powdered sugar, letting it dry between layers.  Well all this coming and going, fussing around with this thing did not allow me to fly back up to the office, so I settled down to reading poetry I had checked out from my local library.  This was just the ticket for interrupting myself every ten minutes to tend my cake.
What a delight this wonderful book was!  I had picked it as a lark up when I had searched out a book of poetry by e.e. cummings, which I had read — all two inches worth of every poem he had written — and while there were definitely radiant jewels in there, most of it was slogging tedium.  So this book (see photo below), by contrast ,was such a sublime surprise, it was the highlight of my evening more than the cake, although the cake most certainly punctuated it and rendered it possible. 
Titled, America in Poetry with Paintings, Drawings, Photographs and other Works of Art, it was edited by Charles Sullivan, and was so good I bought this 1988 version today off of www.abebooks.com for a dollar plus shipping.  The choices of poetry were superb, but the pairing with visuals struck me as marvelously inspired.  The range of American artists and poets included fills the spectrum, and included things I had never seen or read as well as old favorites.
The best thing about the cake was not only that it connected me with my obscure library book, but also that it brought the family together at 10:30 pm, drawing everyone out from wherever they were immersed, to congregate, sample, and critique it.  Since the dessert had been in process all evening, expectation was heightened, and the cake was… disappointing. It looked good and tasted good, but it's texture was definitely disconcerting. It was too moist, almost like bread pudding.  Ah, well.  It was unexpectedly milk inducing and we had fun over it anyhow.  The texture of our camaraderie made up the difference, which is the fodder memories are made of anyway. 
I have since Googled lemon pound cake and found a barrage of options.  It will be a while before I try another one in search of the perfect recipe.  If you make a great one, could you please streamline my hunt?