Our Front Trees are Cut Down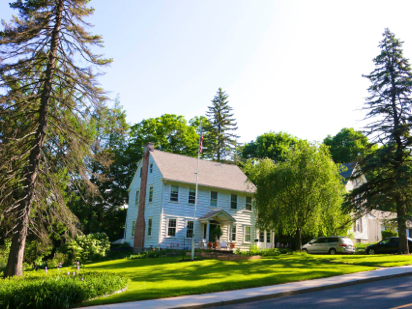 Blog readers may remember that two of our four 75 year old evergreen trees came down in the hurricane. Unfortunately, the two that came down were the healthier ones, leaving the two were dying. Last weekend we finally had the other two removed.
Below are photos of this expensive process. Above is a "before" photo and at the bottom you can see the "after" photo. A tree guy climbed the tree with a chain saw and cut the branches as he went up. Once at the top, he cut off chunks from what then looked like a totem pole, until he got back down.
We are much more exposed and our yard feels larger without the trees. It feels really strange with them gone! Also, we are getting more road noise: we hadn't even realized we had been buffered from that before.
We have new orange azaleas and a Pink Diamond Hydrangea tree to plant on the corner where the one tree came down. We do not plan to plant anything new where the tree next to the driveway was removed. It will certainly take some getting used to, backing out of our driveway without that there!