Recipe: Apple Muffins with Oat Bran and Dates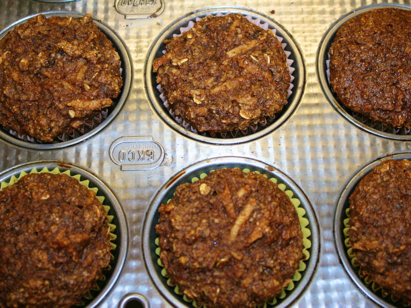 On the plates of the last two recipes I shared (photos repeated below) there were these muffins, and I've been requested to share the recipe here. These muffins are also a satisfying breakfast, full of whole grain and fruit. You can also substitute chopped raisins or died cranberries for the dates to make each batch slightly different.
Oat Bran Muffin recipe
1/2 cup Plain Yogurt
2 large eggs, lightly beaten
1 teaspoon pure vanilla extract
2 tablespoons molasses
3/4 cup finely chopped dates
1 cup oat bran
2 cups finely chopped peeled apples
1/2 cup whole wheat flour
1 1/2 teaspoon baking soda
1/2 teaspoon salt
1 teaspoon ground cinnamon
1/4 cup rolled oats (not quick or instant)
2 tablespoons ground flax seeds
1/2 cup finely chopped walnuts (optional)
Preheat oven to 375˚F.
Lightly oil a standard 12 cup muffin tin or line it with papers.
In mixing bowl, stir together the yogurt, eggs, vanilla, and molasses. Stir in the dates, oat bran and apples.
In a separate bowl, sift together the flour baking soda, salt, and cinnamon and stir in the oats and ground flax seeds. Fold the dry mixture into the wet mixture just until combined.
Spoon the batter into the prepared muffin tin; fill to the brims, about 1/3 cup of batter in each cup. Sprinkle each muffin with chopped walnuts, if desired.
Bake for 15 to 20 minutes, until a toothpick inserted in the center of a muffin comes out clean. Cool on a wire rack. Muffins will keep in a well covered container for several days.
Try them and enjoy!