Colcannon Recipe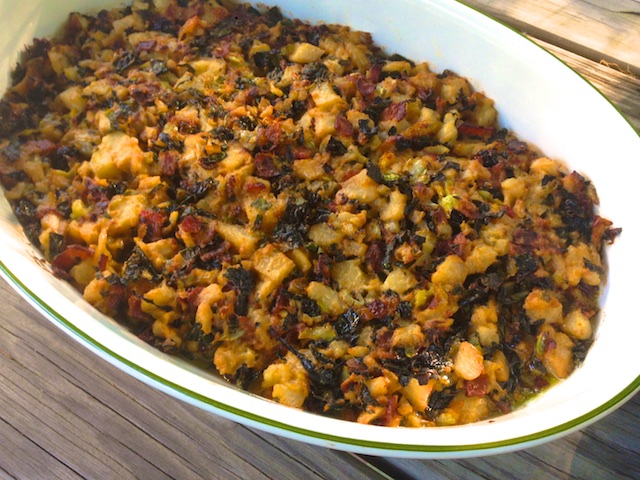 Cohannon is a traditional Irish peasant dish. Usually made with potatoes, I have substituted celery root (see first photo below); it is good either way. Tasting rich and flavorful because of the bacon and butter, it is also very earthy, comforting, and homey feeling. It makes a good side dish but, in my opinion, really make it for serving the leftovers for breakfast with a poached egg on top! Yum.
1/3 cup butter or ghee
1/2 large yellow onion, diced
8 slices of nitrate-free bacon, diced
1/4 large green cabbage, finely shredded
1 bunch Lacinato kale, stems removed, chopped, and massaged a bit
1 cup milk (organic whole or nut milk– I used almond)
1 1/2 pounds organic russet potatoes (or 1 large celery root), peeled and diced
Nutmeg, kosher salt, and freshly ground pepper
Preheat the broiler
In a large saucepan, melt the butter over medium high heat. Add the onion and bacon and cook until the bacon bits are almost done. Add the cabbage and kale and cook until both are tender, about 6-8 minutes. Add the milk and season with nutmeg, salt, and pepper. Turn down to medium heat and cook for 15 minutes, until soft but not browned.
Meanwhile, boil the potatoes or celery root in a pot of water, and cook until fork tender, about 15 minutes. Drain and add to the kale/cabbage mixture. Mash either with a blender or a potato masher.
Spread the mixture in a oven safe pan and place under the broiler for about 5 minutes, until lightly brown on top. Serve immediately.
Enjoy!