Chicken Francese Recipe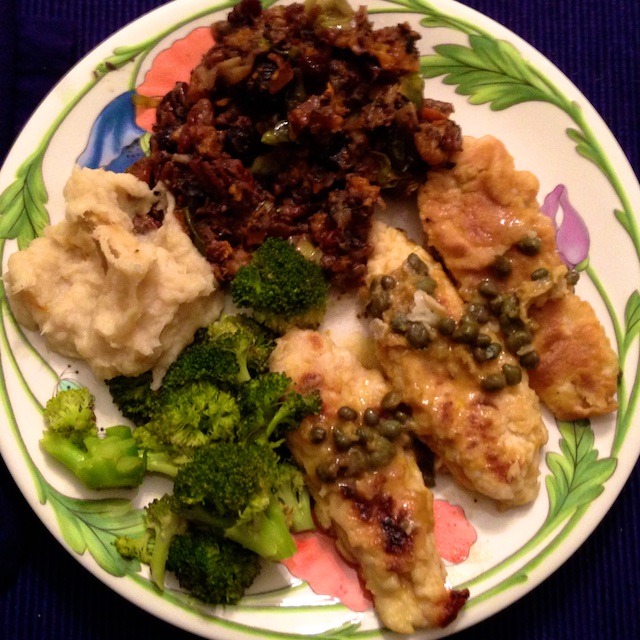 I don't make or eat chicken, but several of you asked for the Chicken Francese recipe my husband and our oldest daughter had for Thanksgiving, so I've gotten my husband to share it with you here. Apparently it is not hard to do, and they think it quite delicious.
Chicken Francese Recipe:
1 cup flour
2 eggs
2 Tablespoons milk
8 thin organic chicken cutlets
salt and pepper
1/2 cup olive oil
1 1/2 cup broth (chicken or vegetable)
1 clove garlic
1 Tablespoon capers, drained
2 Tablespoons lemon juice
2 tablespoons butter
1 tablespoon parsley, chopped
Put the flour in a wide, low dish. Beat the eggs and milk, and put in another low dish.
Season the chicken with salt and pepper. Dredge one at a time in the flour, shaking off the excess, then dip both sides of it in the egg mixture, then back in the flour. Place the cutlets aside on a baking sheet.
In a large skillet over medium-high heat, add 2 or 3 Tablespoons of oil to coat the bottom of the pan. Add the cutlets in batches and cook until golden brown, about two minutes per side, adding oil as necessary. Transfer the cutlets back to the baking sheet, until all are cooked.
Blot the skillet with paper towels and return it to medium heat. Add the stock and deglaze the pan. Add the garlic and bring to a boil. Reduce back to medium, and add the capers and season with salt and pepper.
Return the cutlets to the skillet, and using a spatula, flip them, fully immersing them in the sauce. Transfer the chicken to a serving dish. Add the lemon juice and butter to the sauce and stir until the butter has melted. Pour the sauce over the chicken and garnish with some parsley, if desired.
Enjoy!