Book Review: Harvest of Rubies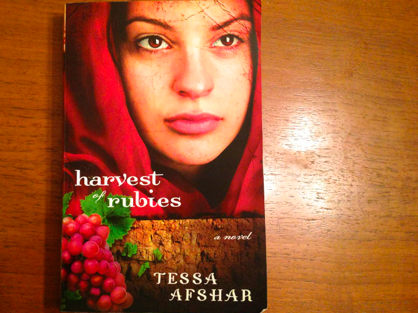 I loved this book and give it five stars; I am eager to read the sequel (titled Harvest of Gold).
It is set in Old Testament times; Sarah, cousin to Nehemiah, is a Jewish scribe in the Persian court. She knows many languages, can handle complex accounts, is quick-witted and intuitive when it comes to problem-solving, but never expects to fall in love. But basically this a love story on three levels: she must learn to love God and feel loved by Him, as well as come to trust her own worth –not based on what she does but who she is. Then will she come to love and feel loved humanly?
The writing here is easy and fun, definitely neither "great literature" nor pedantic. You genuinely relate to and root for this character, complete with all her flaws. The historical setting is subtly portrayed, and while unconvincing in places, you don't really care since you are too immersed in the adventure, and filled with curiosity about what will happen next. The pointed morals are not too overbearing; they add authenticity and depth to the tale, while not derailing it… Here is a bit with Nehemiah talking:
"When God created the first man and woman, He gave them many gifts. And then he gave them work that required the use of those gifts. He assigned them a profound task, much more important than anything you can accomplish in your lifetime. They were to take charge over the earth. They were to rule over the world. …But do you think the Lord counted them worthy because of their abilities? …They hadn't even begun their work yet when he made his first pronouncement over them. He called them very good when they hadn't achieved a single thing. They hadn't proven themselves capable. He pronounced them good not because of what they accomplished, but because of who he had made them to be. … The heart that knows the Lord as the source of its beauty and value knows freedom. You have lost yourself in the gifts God gave you. Those blessings have become your master. … the Lord's care for you never depended on what you achieve. You were created for His love, not to be His work mule. Your accomplishments are meant to be a response to that love; instead you have made love a response to your accomplishments."
Anyway, I recommend this enjoyable romp of a read. She tells a good story; it is light without being trite. If you are like me, it will leave you wishing for more.
Later (2/23/14): The sequel to this book, titled Harvest of Gold is good too. It is the story of Nehemiah rebuilding the wall of Jerusalem. Below I've added photos of that as well.