Recipe: Farinata with Butternut Squash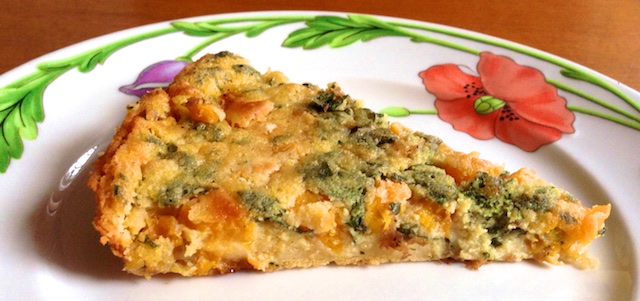 Farinata is a street food in Tuscany made out of chickpea flour, which is a source of protein for vegetarians and vegans, and has the additional advantage of being gluten free. Also called garbanzo flour, I used Bob's Red Mill brand which is generally available, and best practices dictate to store the unused portion of the flour in the freezer to avoid having it go rancid. The step of soaking the flour, while taking time and forethought, renders a more complex flavor and less gritty texture to the farinata. And this is another great way to eat more of that butternut squash my husband grew; its texture and color are perfect in here.
I like this much better than polenta, but it can be used in similar situations. It tastes mild and nourishing, gentle and soft, rather like corn soufflé or quiche, although there are no eggs or cheese in it.
I usually make it as a side dish instead of bread or grain for dinner and then have the leftovers warmed up for breakfast. Shown here, we had it with goat cheese covered black bean burgers and arugula salad. For breakfast, it goes very nicely with eggs, photographed below with both poached and scrambled.
A vegan version can easily be made using a tablespoon of butter substitute instead of butter, and served with a flavorful salad.
Farinata with Butternut Squash
1 1/2 cups chickpea (or garbanzo bean) flour
2 cups water (room temperature)
5 tablespoons olive oil
1 teaspoon fresh thyme leaves
1 handful fresh parsley leaves, chopped
3/4 teaspoon kosher salt
1/4 teaspoon freshly ground pepper
1 tablespoon butter (or substitute if vegan)
2 cups butternut squash, finely diced
1 shallot, minced
Whisk the flour together with the water until smooth. Add three tablespoons of the olive oil, the thyme, parsley, salt, and pepper and whisk again until it is like loose pancake batter. Cover it and let it rest for an hour or two.
Preheat the oven to 425 degrees F.
In a 10-inch cast iron skillet (or other heavy ovenproof skillet) over medium heat melt the butter (or substitute) in the remaining 2 tablespoons of oil. Add the butternut squash and shallot and cook, stirring until soft (about 5 minutes). Season with salt and pepper.
Re-whisk the batter and add it on top of the butternut squash/shallot mixture. Put it in the oven and bake it for 30 minutes until it is no longer wet in the center and the edges are browned and pulling away from the pan. Let the farinata cool in the pan for 10 minutes, before cutting and enjoying it warm. (Makes eight wedges.)
Enjoy!