Recipe: Ginger Pear Muffins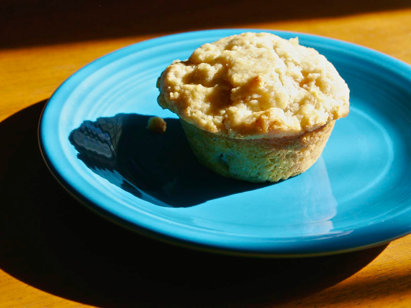 We love this ginger pear muffin recipe from Mollie Katzen's cookbook Sunlight Cafe. The problem is they just don't keep; you make them and they disappear practically instantly! Try this crowd pleaser at snack time:
Ginger Pear Muffins
butter to grease muffin pan (or paper liners)
1 cup finely chopped (peeled) pear
1 tablespoon fresh lemon juice
1 cup whole wheat pastry flour
1 cup all purpose flour
1/2 teaspoon salt
1 1/2 teaspoons baking powder
1/3 to 1/2 cup sugar
1 tablespoon lemon zest
1/3 cup very finely minced crystallized ginger
1 cup buttermilk
1 large egg
1 to 3 teaspoons grated fresh ginger
1 teaspoon vanilla extract
4 tablespoons (1/2 stick) butter, melted
Preheat oven to 375˚F.
Grease muffin tin with butter or line with papers.
Place chopped pear in shallow dish and drizzle with the lemon juice. (set aside…)
Combine flours, salt, baking powder, sugar, and lemon zest in a medium sized bowl. Stir in minced crystallized ginger.
In a 2 cup measure, beat gently the buttermilk, egg, fresh ginger and vanilla with a fork or whisk until smooth.
Combine these three mixtures together, along with the melted butter, in the dry mixture bowl. Stir with rubber spatula until all dry ingredients are moistened. Do not over mix.
Spoon batter into prepared muffin cups
Bake for 20-25 minutes until lightly browned on top and a toothpick inserted comes out clean.
Allow to cool a bit before serving? (Makes 8-10 muffins…)
Enjoy!