New Poem By Me: Reading Walden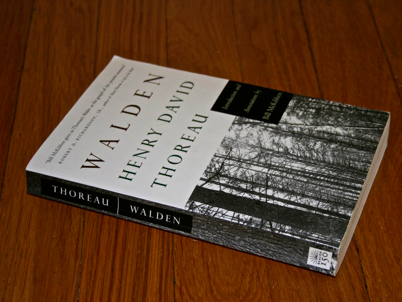 Reading Walden
I remember when my sister had to read Walden by Thoreau;
it was intolerable, excruciating, deafeningly exasperating
like an incessant blaring alarm that can't seem to be shut off.
It was like walking barefoot over a path of rough rusty nails
or being sprayed by a feisty skunk for no reason, the stench clinging
or waiting a long time in frigid down pouring rain without an umbrella
or having voracious mosquitoes consider you their smorgasbord
or wading yet further through knee deep putrid bog scum…
It was memorable because she hated it so.
I made a nice dinner recently and my daughter snarfed it down, unnoticing
and immediately got up to leave. Why? She's reading Walden by Thoreau
and she couldn't wait to get back to it; she's reading it like it is a captivating thriller,
a riveting page turner, or an intriguing ruse with clever plot turns and sensual delight.
She's licking it up like a wonderfully luscious ice cream cone that is dripping too quickly
gobbling it down with way more care and intensity than she ate my dinner for sure
highlighting or bookmarking every page and reading aloud favorite bits, exclaiming,
like it was as beautiful and profound as her first grandchild…
It was memorable because she loved it so.
I presume I read this in high school too, but I don't remember it at all.
Polly Castor
6/17/09