Photos of Peonies in My Handmade Vase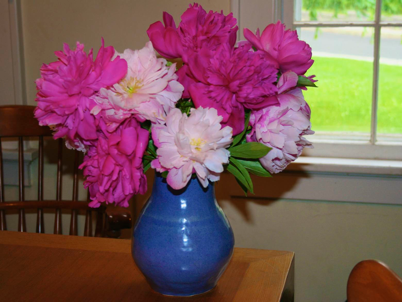 I love peonies. My mother grew them and the first photograph below is one growing in our yard that used to be hers. I'm glad to have it. One of my fondest memories is yearly carrying her peonies to school – covered in ants and heavenly aroma – as a gifts to my teachers. We have several kinds in our yard now, all wonderful.
This year, however, we had lots of rain so their glory seemed unfortunately short lived. The vase I made by hand out of clay as a coiled pot. We call it my "Van Gogh vase" as it is rough hewn and homey in the way the vases he painted were. Enjoy!