Yeah! The "Book War" is Over for This Year!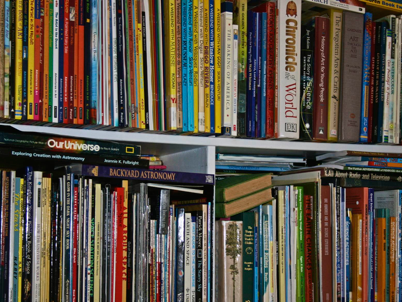 There are those in my local homeschooling network here that call me "the book maven." I earned the title scouting out the best homeschooling books at the cheapest prices, frequenting library book sales and used curriculum sales as well as homeschooling conference trade shows. We now have over 10,000 books in our small house, mostly boxed and labeled by subject in the basement. Once a year, I log in all that was read (LOTS!) the previous school year and pack it away. Then I unpack different topics and age appropriate materials for my range of growing students for the next year. This procedure is not only the backbone of our homeschooling life, but our home organization itself revolves around it as well.
I have never been done with this process this early in the summer! I have been spurred on to tackle it soon because of expecting out of state family and guests this weekend for a celebration and ceremony for my first homeschool graduate. I didn't want the stacks of already read stuff still gracing the floor in the dining room! Now all of a sudden, July and August have some room in them for me instead of still needing to tackle this arduous task! What will I do with a summer ahead of me? We shall see… shall I streamline my office, or hang out at our swimming hole, or hike, or read, or paint? Usually this book organizing task in the summer eats up as many hours of my day as homeschooling itself does during the school year. I must say, the annual "book war" as it has come to be affectionately called, used to be much more difficult than it is now – experience has some advantages! I did it relatively efficiently this year and am very grateful it is done. I have definitely become better at it and found what works.
Most book shelves are double stacked with a whole layer behind the front ones. You will see we are looking forward to units on astronomy and art history, a Sonlight survey of 20th Century Literature (see here), etc, etc… You'll see some summer reading and some things like Thornton Burgess which are favorites that simply had to stick around. (Our youngest is a re-reader.) I even went through my cookbooks this year because a shelf became available that my graduating daughter used to have stuff on; I finally have room for all my cookbooks! Check out the newly done shelves below; a picture is worth 1000 words. These shelves represent a lot of research, hard work, and ideas for great reading!