Recipes for Kale Polenta; and Tatsoi, Goat Cheese, and Grapefruit Salad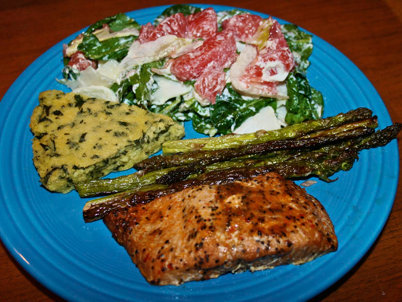 We are fortunate to be part of a shared harvest at a local educational farm and weekly get a box of vegetables and fruit. This week our box included kale, which I have not found a way to care for yet as a sautéed lump on my plate(!), and tatsoi, which is also known as spinach mustard, and is in the bok choy family with a somewhat spicy leaf. Neither of these I would have previously picked out and bought from the store, so I had to contemplate how I should fix them.
The kale I made into kale polenta from Jack Bishop's book Vegetables Every Day. It was easy to make and delicious too, but was much better with the light lunch shown below; it was too heavy with the dinner above. I underestimated how filling the salad I made with the tatsoi would be! The salad was really wonderful but would be better as a lunch in itself. That recipe I found searching on Martha Stewart with the keyword "tatsoi" (see recipe here). For the "mixed lettuces" I used only my tatsoi, which was one of those suggested. My goat cheese was so loose (the recipe says room temperature after all) that when the salad was mixed, it mixed in more as part of the dressing than as clumps, so mine looks different than you see in her picture. See my pictures below and give these easy recipes a try for something delectably different!
Kale and Polenta Pie
Makes one 9″ pie, serves 6 – 8 as a side dish.
Be sure to buy instant or quick cooking polenta.
Ingredients
1/2 pound of kale
Salt
1 tablespoon plus 2 teaspoons extra-virgin olive oil
1 cup instant polenta
1 cup grated Parmesan cheese (can be non-fat)
1. Preheat oven to 400 degrees F.
2. Bring 3 1/2 cups of water to a boil in a large pot. Wash the kale in several changes of cold water, stripping off the leafy green portion from either side of the tough central vein. Discard the veins and chop the leafy portions finely (or cut into small strips with kitchen scissors). Add the kale, 1/2 tsp salt, and 1 tablespoon of the oil to the water. Cover and cook, stirring occasionally, until the kale is tender, about 6 minutes.
3. Reduce the heat to low. Slowly stir in the polenta with a wooden spoon until smooth. (This should take about 1 minute.) Partially cover and cook until the polenta is thick, about 2 minutes.
4. Remove the pot from the heat an stir in the cheese. Taste and adjust the seasonings, adding more salt if necessary. Grease a 9 inch round cake pan with the remaining 2 tsp of oil. Scrape the kale-polenta mixture into the cake pan.
5. Bake until the polenta pie is firm and golden brown, about 20 minutes. Let the pie cool until barely warm, at least 30 minutes and up to several hours. (The polenta will firm up as it cools, so don't rush this process for best results.) Cut into wedges and serve.