Eye of the Beholder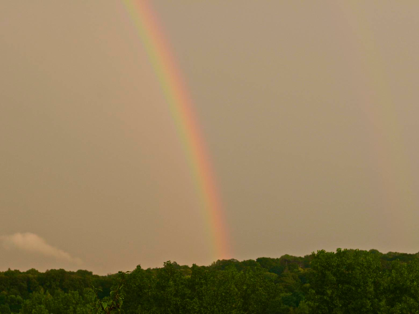 I have been contemplating rainbows recently, spurred by something I read in the Sentinel magazine (see here). As a physicist, I know that a rainbow does not exist "out there" but actually exists on the retina of the eye. You can never get to it or touch it, because that remarkable beauty you see is actually, literally, within you, even though it comes as a suggestion of atmospheric conditions.
I'm experiencing this as a metaphor for so many things lately. For example, I was at my homeschooling support group's planning meeting last night. What struck me most was how my perspective was so dramatically different in my eleventh year of homeschooling than those just starting out. Yes, I am interested in academic excellence, but have learned that it is the heart and the love that will matter most. I'm deeply grateful we had cozy time on the couch time doing Five-in-a-row (see here) in Kindergarten. Kids need a great foundation, need age appropriate studies, and need all that comfort and affirmation and independent exploring to make their own connections. They need cuddling and something interesting to think about that they understand. Some of these new parents can't see that at all; they are busy trying to teach their kindergarteners exponential logarithms, and are rather ruthlessly focusing on making them the powerful ivy-educated elite ready to run the universe. They'll not get another chance at having their child be a carefree happy kid who learns by playing, who knows that they are great right now. I would, from where I stand, that they safely build on that sure footing. But they couldn't hear what I had to say because the rainbow wasn't fixed in their eye, and one wonders if it ever will be. They may never know what they missed.
I'm reflecting on all this probably more right now, since I drive my oldest to college today. I leave with her in about an hour; she's still racing around packing last minute stuff. We are seeing a beautiful rainbow in this transition for both her and us. It feels natural. We know peers of hers and their parents who are sad, or scared, or bittersweet, or excited out of all proportion. Yes, in one way it is a big deal. But more to us, it is just the next step in a slew of gradual steps. We've encouraged age appropriate activity all along, so this is feeling normal to us. She's always been more than equal to whatever was required of her; she's ready for this too. She's done her laundry for years, been in charge of her life and her studies for a long time. She's socially savvy and will enjoy meeting new people. And she is that academic powerhouse those new hot-house parents can only dream of, but it happened one color at a time –unforced– to make this glorious rainbow.
It is interesting, that as so often happens when you are thinking of something, it comes into your experience. I was thinking all this about rainbows and got a call from a local friend that I should come over immediately and bring my camera for a wonderful rainbow! I did rush over and took the photos above and below, but could not catch the immensity and the awesome nature of this huge, complete, double rainbow. In my metaphor, there was a vivid one for my child and a subtle tandem one for us, both beautiful, and comprehended, but it was impossible to get sufficient distance on it to record it, except deep within. The rainbow holds a promise and I saw it rejoicingly and totally embraced it.
The atmospheric conditions are always right to see your child (or yourself!) as complete and enough at any moment, including the whole spectrum of brilliant and loved, capable and prepared, if only you have the eye to behold it. Today I'm glad I have and I do. I hope you do too.