Beka Copper and Alanna Series By Tamora Pierce (Review)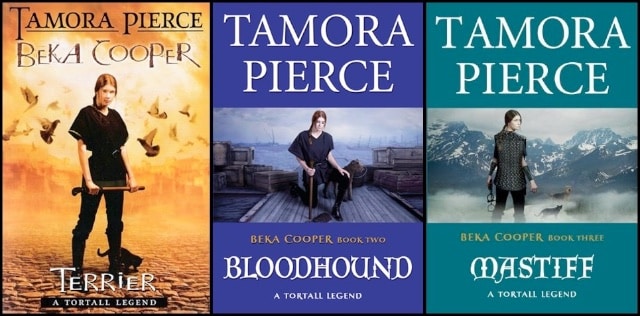 On our trip, I let our daughter pick the audio books we'd listen to in the car, since I knew there were lots of things she wanted me to hear, and this was a good opportunity for it.
In our five weeks together, we listened to seven books written by Tamora Pierce about a realm called Tortall. This constituted four shorter works about Alanna (shown below), and three longer books set a hundred years earlier about Beka Cooper (shown above). I am informed that there are several other tangential series taking place in the same realm. I can look forward to thirteen more books and counting in this detailed world that this author has built.
I can see what both our daughters like about these works of fantasy, and I also understand why they avoided me reading them until now! To my surprise, these heroines are sexually active, so if you are thinking about getting them for someone you love, I recommend waiting until they are at least thirteen. I'm pretty sure mine read them sooner than that, and while there is nothing that explicit, there are multiple, successive lovers, which was not what I expected for a YA book.
Still, these are engaging reads, with much to recommend them. One series is about a female knight, another is one of the provost's guards. Both main characters are female fighters with a lot of sword play as the main event. The times are like the middle ages, and this is where our daughter's fascination for "deadly archaic weapons" stems from.
There are also a lot of invented cultural references in these works of fiction that it is now nice to have in common with our daughters, and that I am glad to understand. We started using some of the creative terminology in our everyday conversation, which was fun.
Having heard about these books so much during my daughters' teen years, it was nice to get a window into what they resonated with. The fierce independence of these strong female characters is something I too appreciate and love!
I thoroughly enjoyed these reads. They felt like being immersed in vacation, which was perfect, because we were! I give them 4 stars.
I've now outdone myself on the series section of my Reading Challenge!