Big Day: College Drop-off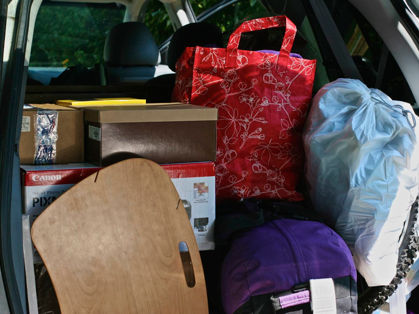 Well, we finally pulled out of the driveway and drove to Annapolis. My daughter burned CD selections on the way for us to listen to, which included everything from tango music to Techno. My favorite choice was Julie Andrews singing "Confidence" from the Sound of Music where she has "confidence in confidence alone" as she starts her new life. It seemed particularly fitting and made us laugh.
We made remarkably good time and even had time to swim in a lovely outside pool and go out to dinner. The hot cookies, luscious beds, and free WIFI at the Double Tree were all duly appreciated by us. We woke up for the big day not wanting to go anywhere, and just stay in our cocoons. My daughter was languorously reading the Iliad in bed, commenting on its "winged words." I had to jostle her reverie to get her going; it's time for the butterfly to emerge. She burned another CD for me (sublimely beautiful wordless New Age) to listen to on the way and to buoy me after; it was so sweet of her to be thinking of me at a moment like this. I was bursting with love and appreciation and gratitude for her as we drove the short distance to the campus.
We arrived at St. John's College for an effortless registration; it is a simple process when there is a mandatory curriculum and no tussle to get into the classes you want. My daughter was delighted to get the best seminar teacher for seminar (click here to see her on Book TV recently) who is both revered and considered intense. This Great Books discussion class is core to the curriculum. She will also take Ancient Greek, a lab science class, a math class (using Euclid's The Elements as the text) and a music class. We had pre-ordered her books, so we picked them up, and I got two magnetic bumper stickers, one for each car.
Her dorm room is on the third floor of Randall Hall, up some gargantuan stairs; boys are on the second floor and the first floor is the dining hall. She's in a small room in the middle of the hall. We met her roommate, who is a Mormon; they are mutually grateful to be with someone that comes from a foundation of not smoking, drinking or doing drugs. Neither even drink caffeine. The roommate quips, "We'll have all sorts of sober fun together." My daughter is also happy to learn that some of the "prospies" (prospective students) that she enjoyed when she visited last spring have indeed ended up attending here.
It is hot out (we are glad it is not raining) and the cicadas are screaming. Their incessant racket is amazing. The fabled upper class-men assigned to help carry stuff are elsewhere. The new roommate helps my daughter and I sweat out getting our van load heaved up into that gabled room. The dresser is tiny and we need more hangers. See the contrast in the photos below, between my daughter's staid posters (the Mother Church in Boston and her beloved Queen Elizabeth) and her roommate's Star Wars / pop culture collection. (If you want to see more photos of the campus, check out my previous post last spring, by clicking here.)
Most of the parents I meet are very positive. Most say things like, "So your kid decided to come here because they actually wanted to learn something in college?" (The only exception to this, actually, was the roommate's parents who, "Don't see the point in this liberal arts education," and couldn't get out of there quick enough. Their older two sons had gone into the military.) One mom said to me that she had had better talks with parents here at St. John's in one day then all four years in a large public High School. I'm looking forward to coming back for parents weekend now for more than to just to see our daughter: I'm really liking these parents. This is considered a "self-selecting institution" (everyone does not want this rigor) and it apparently takes a certain kind of parent to foster this desire in their kid. In one way we share an understanding of that, and in another we stand by incredulous.
My daughter and I dip out to meet the student coordinator for the Annapolis church (who later called my daughter "luminous") at the well-located store-front Reading Room two blocks away. We are both glad for this church's amazing commitment to be in the community so close to both colleges with full business hours during the week. My daughter looks forward to making this her own sanctuary, and will have to learn to balance slipping past the attendant to get the quiet time she'll crave in the study room, while still enjoying the social contact. The woman we meet arranges rides for the St. John's students and the midshipmen (from the Naval Academy) to get to Sunday School, and there is a student organization she facilitates for the students as well on Tuesday evenings. The contrast between "the Johnnies" and "the Mids" couldn't be more stark; the differentiation that is usually made is apt; they compare the two as Athens and Sparta. (I'm glad my daughter is likened to an Athenian!) Anyway, these two perspectives will merge through church which will expand my daughter's world.
At the parent's info session, we cover everything from how grading is done (and not done) to swine flu plans. We are encouraged to stay involved in our child's academic education by asking them specific questions about what they are learning and doing. When asked about campus safety, they say that it is an open campus but they are flanked on all sides: on one side is the Navel Academy, on another is the State Capitol, the third side houses the Governor and the last side faces the river, so they feel that's as safe a neighborhood as you'll get! We are told about internship funds available for make-your own internships, how to get work-study jobs on campus, about the school's new concerted push to make this incoming class one not addicted to nicotine, and about the intramural sports program that most students participate in.
Later in the afternoon, there is the convocation which bookends the student's college experience with graduation on the far other end. Donning a gown (no cap yet), each freshman's name is called and they walk across the stage to applause, shake the college president's hand and sign the official college register. I am surprised to find out that there are four other freshmen from our surrounding area: Newtown, Wilton, Norwalk and Fairfield are all represented with students in my daughter's class. Otherwise, these kids are from everywhere, and include international students as well. I'm feeling good about these students as I see them walk across the stage, in all their variety, their desire for inquiry, their willingness to be challenged, and their intention of learning for its own sake. The president gives a short speech about friends, making lifelong friends with authors and characters in books, as well as making friends that are "actually still breathing." I laugh. The convocation ends with the academic year officially pronounced "open," and we all convene outside for refreshments on the lawn.
I said goodbye to my daughter from there, and stood aloof watching the scene as I filled in her father about the day on the cell phone. This evening she has a meeting with her teachers, followed by a campus wide waltz party, where supposedly they actually waltz. Tomorrow she has orientation and her first seminar, and she already got her homework at registration for class on Friday. Saturday she'll sign up for extracurriculars; she's thinking of crew, fencing, chamber music, swing dancing, Latin, sailing, and I'm sure a myriad of other things. She's on her own now; the butterfly's wings spent the day drying in the sun; she is ready to fly.
I went then to the local church's Wednesday evening testimony meeting and met her Sunday school teacher (a wonderful gentleman) and other church members. I stayed out late socializing with these new friends and eating homemade ice cream at the Annapolis Ice Cream Factory. I thank God for every bit of this awesome day and for our wonderful girl. I kept thinking today about the Christian Science adage, "What blesses one blesses all." It is clear to me that our daughter is a total blessing to her new
surroundings, so she'll be receiving a blessing there as well.