Grilled Salmon with Lemon Garlic Sauce (Recipe)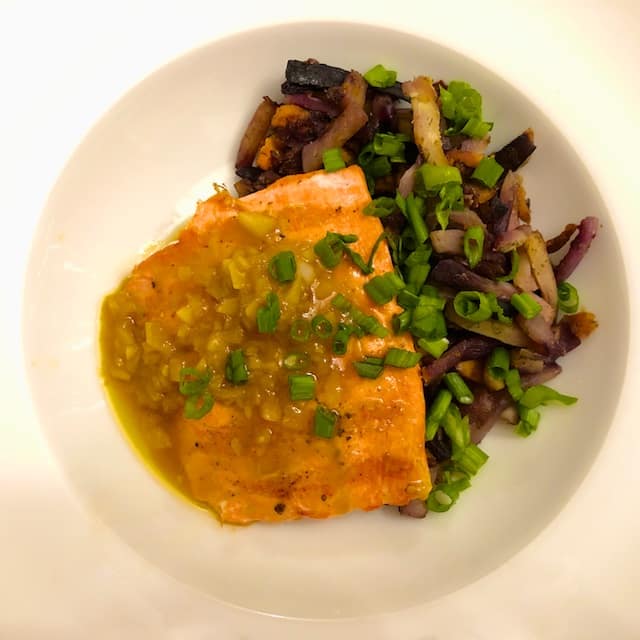 We like salmon just baked with a little olive oil and salt and pepper, usually putting it on a salad with salad dressing. But in the winter, I've been wanting it as an entire hot meal, so I've been trying other things. The Salmon Piccata posted last month was a recent success in this department, and this recipe is the next one.
This is really delicious and very quick and easy. It is done entirely of the stove top.
I "grill" this indoors in a cast iron grill pan. If you don't have one, you could use a regular cast iron pan, or grill it outside.
I encourage you to use wild salmon instead of farmed. To remove skin from the salmon, hold the palm of your hand on top of the fillet (skin side down) and use a sharp knife to slowly slice between the salmon and the skin. Pressing down with both hands, you'll loose very little other than the skin.
Serve it with roasted vegetables or mashed potatoes for a perfect meal.
Grilled Salmon with Lemon Garlic Sauce
For the Sauce:
1 Tablespoon ghee
2 cloves fresh garlic, minced
1 Tablespoon fresh squeezed lemon juice
1 Tablespoon coconut aminos (or soy sauce)
1/4 cup vegetable broth
For Salmon:
2 fillets wild salmon, skin removed
salt and pepper
1 teaspoon ghee for pan
green part of two scallions for garnish, sliced
To make the sauce, heat the ghee on medium in a small pan, then add the garlic. Stir continuously until the garlic begins to turn golden. Add the lemon, broth, and coconut aminos. Simmer until it reduces to two or three tablespoons.
Season salmon on both sides with salt and pepper. Heat a cast iron pan over high heat until it starts to smoke, them brush on the ghee. Place each salmon fillet in the pan with what used to be the skin side up so the pretty side will be the one to sear. Then lower the heat to medium and let the salmon cook without moving it, until it has mostly changed color to up to the other side. Flip the salmon and sear the other side not as long, but until the color evens out.
Transfer the salmon to a serving dish and top with the sauce, followed by the scallion garnish.
Yum! Enjoy!