Salmon Piccata with Cinnamon Sweet Potato Mash (Recipe)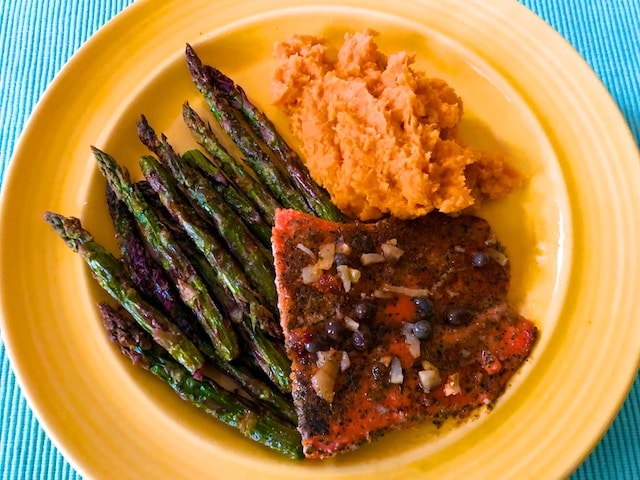 This different dish is delicious enough for special occasions, and easy enough for a weekday meal.
Salmon Piccata with Cinnamon Sweet Potato Mash Recipe
For Sweet Potatoes:
4 cups sweet potatoes peeled, washed, and cubed
1/2 cup Cashew Cream or Coconut milk
2 tbsp ghee
1/2 teaspoon salt
1/2 teaspoon ground cinnamon
For Salmon:
2 6oz salmon fillets (I prefer the skin removed)
1/2 teaspoon salt
1 teaspoon old bay seasoning
1 teaspoon garlic powder
1 teaspoon onion powder
1 teaspoon dried parsley
2 Tablespoons ghee
2 teaspoon minced garlic
2 Tablespoons capers, rinsed
1/2 lemon (juiced)
Sweet potatoes:
Place sweet potatoes in a medium pan with a lid. Cover them with water, top with lid. Cook on high-medium heat for 20 min. When done pour out the water and let sit for 5 minutes, then mix in ghee, cashew or coconut cream, salt, and cinnamon. Beat until smooth with a hand mixer. Add more cinnamon and salt to taste.
Salmon:
While the sweet potatoes are cooking, in a small bowl mix the old bay seasoning, salt, garlic powder, onion powder, black pepper, and dried parsley. Then, rub the spices on the salmon– top, bottom, and sides. Let sit for 5 minutes. Heat a large skillet with the ghee on med heat. Place the salmon in the pan and then add the minced garlic, cooking it for 2 minutes if your salmon is thin, 3 minutes if your piece is thick. Turn salmon over and cook for 2 minutes on the other side. Drizzle the salmon with lemon juice, and use a spoon to drizzle more of the sauce on the salmon. For the last 30 seconds, add in the capers and swirl around.
Serve immediately. Yum!