Cauliflower Poppers (Fabulous Air-Fried Recipe)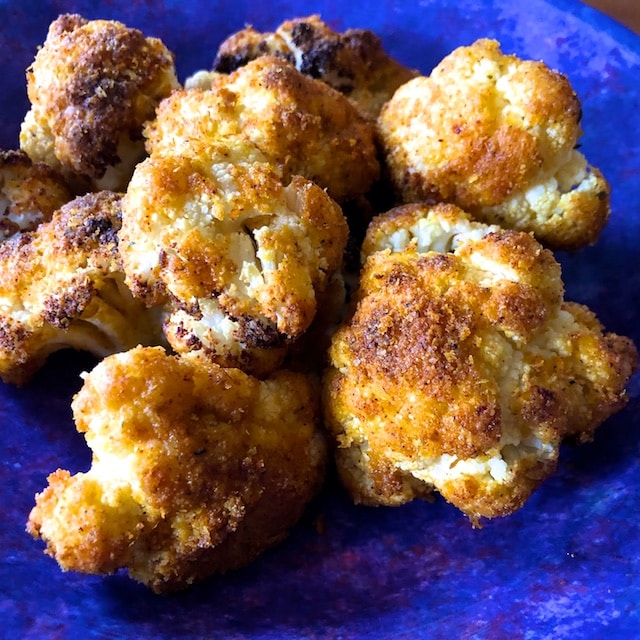 If you don't have an air-fryer, this recipe is worth getting one for! (This is the one I got last February for my birthday. I absolutely I love it, use it all the time, and am so grateful to have it.)
These cauliflower chunks are crispy, buttery, and seasoned perfectly. They are easy, quick, and incredibly delicious.
I suppose restaurants would serve these with dip, so if that is your thing, have at it. I think they are perfect just as they are.
Any chili powder would work fine, but I've been making these with this homemade cajun chili powder found here on the blog.
Air Fryer Cauliflower Recipe
4 cups cauliflower florets
2 Tablespoons ghee, melted
Seasonings:
2 Tablespoons nutritional yeast
1 Tablespoon arrowroot powder
1 teaspoon chili powder
1 teaspoon garlic powder
1/2 teaspoon paprika
1/2 teaspoon sea salt
Mix the seasonings in a small bowl.
Melt the ghee, and it add to the cauliflower. Toss to coat.
Add the seasonings to the cauliflower. Toss to coat.
Place the coated cauliflower in the air-frier with space between the pieces.
Cook in your air fryer on 375ºF for 15 minutes if they are large florets, 10 minutes if they are small.
Serve hot and enjoy!