Broiled Scallops (Recipe)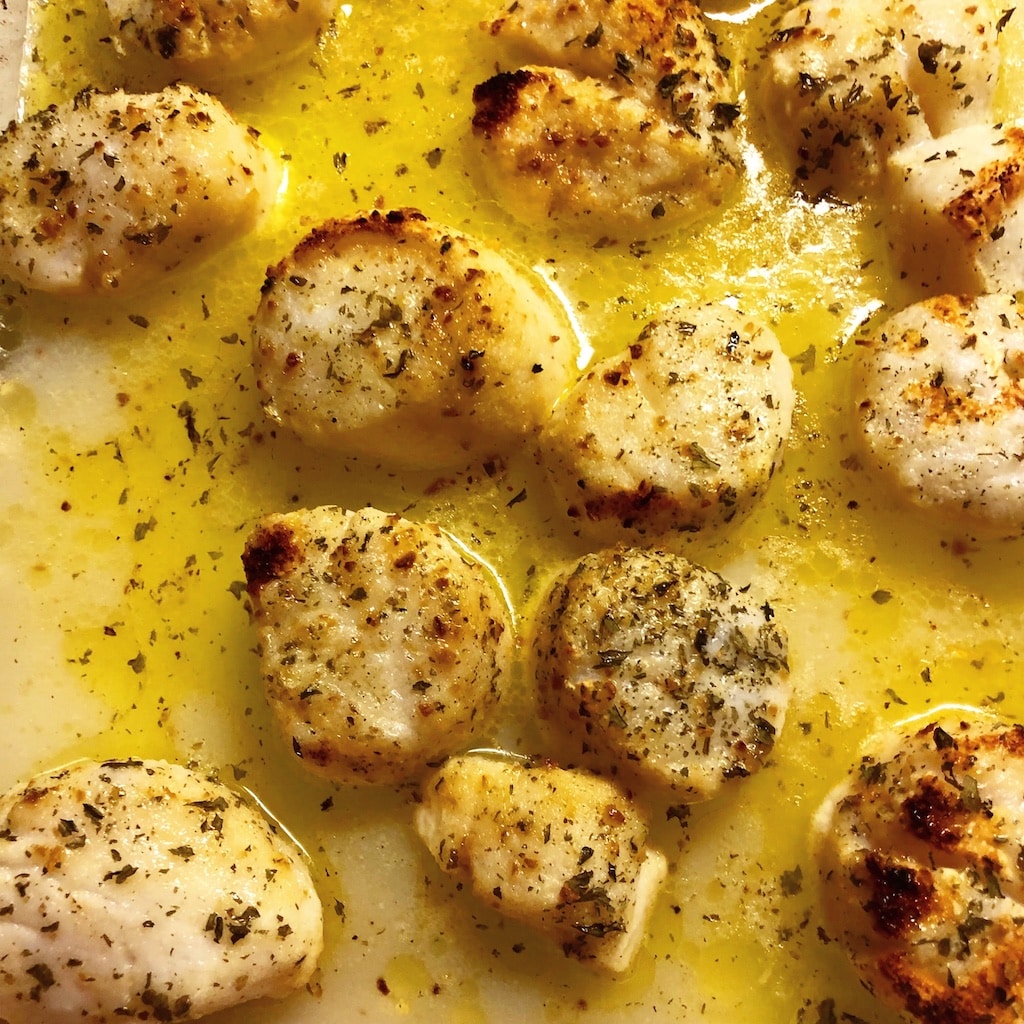 I made these broiled scallops this weekend and they were a revelation.
I usually sear scallops, and while everyone loves them that way, they are a bit of a bear to make. They are quick too, but full of hot spatters that you need to stand over and moderate, trying not to get burned and make a mess of your stovetop in the process. Also, if you are making a lot, it is hard to turn them fast enough so each one is both perfect and equally hot. It is a bit of a frenzy to do, and while delicious, it's not great for the cook who gets a bit frazzled and sizzled in the process. That (former!) way tastes so good that I kept making it, loathe to try anything else that might "waste" my expensive scallops.
Well enter this brilliant recipe: I'm so glad I gave this a try, and you will be too.
This is very easy, quick, scalable for a crowd, all done at the same time, and hard to do wrong, and not a mess or a danger for anyone. And just as delicious! I call that a win.
Next time we are going to sprinkle these with a bit of grated parmesan cheese for the last minute under the broiler. You might want to give that a try too. The photos here– uncooked below and cooked above– don't include that step and are plenty yummy as is!
Broiled Scallop Recipe
1 1/2 pounds scallops (bay or sea)
2 tablespoons butter, melted
2 tablespoons fresh squeezed lemon juice
1 tablespoon garlic salt
1 teaspoon dried parsley
(parmesan optional at end.)
Turn broiler on.
Rinse scallops, and remove any "foot." Pat them dry with a towel.
Place in a shallow baking dish, with all the ingredients above, and stir until incorporated.
Broil for 6 to 8 minutes until starting to turn golden. (Add a sprinkle of parmesan for the last minute if desired.)
Remove from oven and serve immediately, with the extra sauce served on the side in little ramekins for dipping.
Isn't that terrific?