Movie Review: UP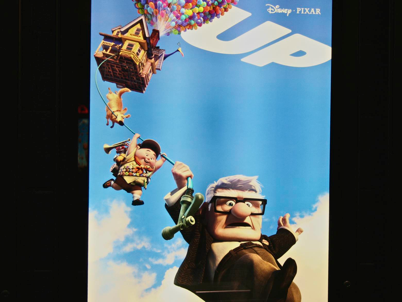 I give the movie UP four stars. It was unexpectedly sweet with the courtship and relationship between Carl and Ellie. Ellie continually helps Carl along, like putting her hand print on the mail box on purpose right after he accidentally does. She is always affirming and encouraging him, enlivening him. Another dear scene is where the bird befriends Russell.
There were moments of foreshadowing like when the young Carl tentatively walks the plank to get his balloon at the beginning, and then later as an old man, he is fearlessly zip-lining a hose thousands of feet up in the air. When Carl was selling balloons early on, they tried to take the cart up with them, so the house taking off was the next natural thought.
I also knew there was more in that scrapbook the minute Ellie lovingly pushed it to him, and sure enough, later that comes into play. In the same way, you could tell that their hero as kids would have to weave back into the story. There were hilarious moments as well, like when Russell shouts "squirrel" to the pursuing dogs. My husband loved the moment near the end where all the "scary" dogs are enjoying putting their heads out the windows. There were also sad moments, like Ellie not living to see Carl come through on his promise, and Russell's Dad disappointing him by not coming through on his.
There were overall lessons to ponder, but the lessons were not overbearing if you wanted to ignore them and go purely for the story, however they were there to think about, if that made it a richer experience for you. There were many implausible moments that you just go with because you are willing to; the one of these I most enthusiastically embraced was that Carl needed a walker and a chair lift early on, but by the end he was robustly dragging a house over rough terrain at top clip under full pursuit. That hose must have been pretty well attached to his house, and his helium balloons lasted better than any of ours ever do! And where were all those balloons hiding right before take off?
This movie seemed very fresh and original in one way, but in another, it reminded me of a book I enjoyed with my middle school kids called Airborn by Kenneth Oppel, and it seemed to me some motifs may have been stolen from there. (A good book, by the way, better than this movie, I'd recommend it…) If I was the author of that book I'd be thinking that the similarities were not quite a coincidence, and would be miffed, but in other important aspects, they are very different, as the book is set in a different time and with adolescent main characters.
Anyway, I agree that life is one grand adventure and that all aspects of life are brimming with opportunities to connect with that spirit. Let's all go for it! And with zest, let's keep our promises. Cross our heart.