Two New Paintings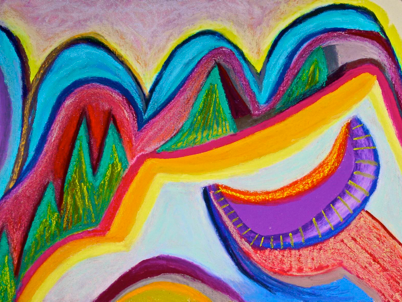 Last night I was what my mom would have called "beside myself." I was exhausted and would have gone to bed, but the sheets were in the laundry. I wanted to read, having searched for a moment to do so for weeks, but was too tired and restless. My husband and son were off at an adventure movie and the house was quiet. A quiet house, with professional work temporarily complete, was something else I had looked forward to. I tinkered on the computer before I realized what I needed to do. Paint! This activity always resolves my loose ends and welds together my frayed edges.
The painting above is an abstraction of a place called Deer Park, a remote campground high up in the Olympic National Park. There is a cradle-like out-cropping there where you feel as if you are sitting in God's own palm as you look out over layer upon layer of mountains towards the sunset. For over ten years I was in Washington State this weekend for an annual conference, and I am missing this spot in Deer Park that I would flee to for the spiritual sustenance I got from this invigorating view.
The painting below was simply an experiment in layering colored cross hatching. Again, I'm starved for vistas, so they often come out abstracted in my work. With wonderful music playing on my iPod dock – at considerable volume – I had a great evening.