Asian Shrimp Veggie Bowl (Recipe)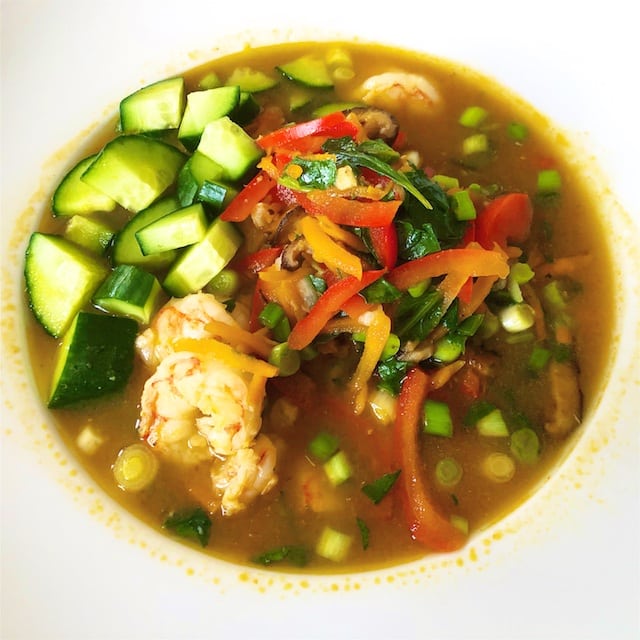 This is light and fresh, similar to Pho, but cleaned up with shrimp as protein, all veggies instead of noodles, and no bogus ingredients. Very satisfying, while simple and flavorful, this is a good dish to have on regular weekday rotation.
If you want to make it vegetarian, it would still be good with the shrimp omitted. You can also modulate how spicy (or not) you want this by the type of chili pepper you choose and whether or not you include the seeds. We like it rather mild, others may prefer it more hot.
The recipe makes 4 servings for big bowls. We frequently halve this recipe for just the two of us.
This comes together quickly, so get everything prepared before you start cooking.
Asian Shrimp Veggie Bowl Recipe
3 Tablespoons olive oil
1 pound shrimp, peeled and deveined
1 red pepper, cut in thin oblong strips
1 jalapeno, deseeded and minced
2 cups shiitake mushrooms, sliced
3/4 cup carrots, grated wide
4 cloves garlic, thinly sliced
2 Tablespoons fresh ginger, finely grated
4 cups vegetable broth
2.5 cups water
3 Tablespoons coconut aminos (or soy sauce)
sea salt and freshly ground pepper
2 cups (tightly packed) baby kale, roughly chopped
2 teaspoons rice vinegar
2 teaspoons toasted sesame oil
1 small fresh hot chili pepper (I deseed it; don't for more heat), minced
1 bunch scallions, chopped
1 English cucumber, chopped
In a large sauce pan over medium-high heat, warm 1 Tablespoon of olive oil. When hot, add the shrimp in a single layer, and cook them without moving them, for 1-2 minutes (until curling together almost tight fisted). Flip them over one at a time, and then start removing them from the pan in order of the first flipped over, allowing no more than a minute each on the other side. Set them aside.
Add remaining two tablespoons of olive oil to the pan and heat over medium-high heat. When hot, add the mushrooms, and cook until golden brown, around 4-5 minutes. Add the carrots, jalepeno, red pepper, garlic and ginger, and cooking, stirring, for another 4 minutes. Stir in broth, coconut aminos, 2 1/2 cups water, 1/2 teaspoon salt, and 1/8th teaspoon pepper, and bring to a boil.
Reduce the heat to a simmer, and stir in the kale, rice vinegar, sesame oil, chile pepper, and cook for 5 minutes. Return shrimp to the pan and add the scallions. Cook for an additional 5 minutes.
Ladle into individual bowls and garnish each with fresh cucumber chunks.
Serve immediately and enjoy!