Farmer's Market Haul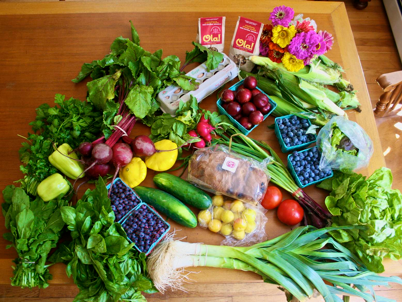 I am a major fan of farmer's markets. Not only does local food taste better because it is more fresh and in season, but what I buy is responsibly grown and often organic. Food in this country is 50% of our national carbon foot print. Whenever we can buy local organic produce we are doing our part to reduce that enormous, unnecessary percentage. Our local farmer's market is on the weekends, and our shared harvest is distributed midweek, so between the two we are well-stocked throughout the week.
(My teenage son is fond of complaining, "There's no food in the house, only ingredients.")
Below are some close ups of this weekend's produce. They look like paintable still-life's to me! The last picture is a heap of beet greens not shown in the rest of the photos; they covered a whole counter in the kitchen! Everyone in the line at one vendor donated their beet greens to me during a discussion about how to cook them, and then the vendor himself gave me a slew of them for free as well. It took me a whole hour to wash those beet greens and when sautéed they reduced down to the smallest bowlful of four small side servings! Anyway, feast your eyes… And find your own local food here.