Recipe: Deluxe Tuna Casserole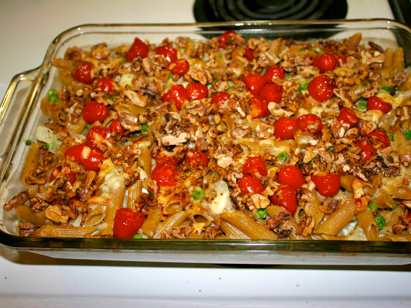 This is unbelievably good, with a sophisticated hint of blue cheese… And very wholesome too: totally different from the usual tuna casserole recipes, laden with packaged chemical additives. You'll want this regularly!
Baked Tuna Casserole
1 package whole wheat pasta (16 oz)
3 tablespoons butter
1 medium onion, diced
2 tablespoons all purpose flour
1/4 teaspoon salt
1/4 teaspoon coarsely ground black pepper
1/4 teaspoon coarsely ground red pepper (cayenne)
1/4 teaspoon ground nutmeg
4 cups low fat milk
1/2 cup freshly grated Parmesan cheese
1 cup frozen peas or frozen edamame
4 ounces blue cheese crumbled into pieces
2 cans albacore tuna, water drained
1/2 pint cherry or grape tomatoes
1/2 cup coarsely chopped walnuts, toasted
Preheat oven to 400˚F. Toast the walnuts in the oven while it is preheating, until fragrant and starting to brown.
Meanwhile, in a large sauce pot, prepare pasta as directed on package label.
In a deep, large sauce pan, melt butter over medium heat. Add onions and cook until tender, about 8 minutes, stirring occasionally. With wire whisk, stir in flour, salt, black pepper, ground red pepper, and nutmeg. Cook for 1 minute, stirring constantly.
Gradually whisk in milk and cook over medium high heat, stirring frequently, until sauce boils and thickens slightly. Boil one minute, stirring. Stir in 1/4 cup parmesan. Remove from heat.
Place frozen peas (or edamame) in colander. Drain pasta over the peas, and return both to the sauce pot. Sir in sauce, blue cheese and tuna. Transfer to Pyrex baking dish.
In a small bowl, toss tomato halves with remaining 1/4 cup Parmesan. Top casserole with tomato halves.
Bake until casserole is hot and bubbly, and top is lightly browned, about 20 minutes.
Sprinkle with the toasted walnuts before serving.
Give it a try… what a treat!