Book Review: Peaches for Father Francis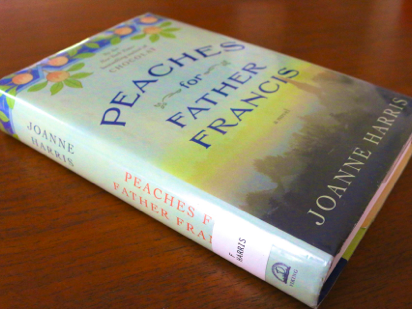 I enjoyed this sequel to the book /movie Chocolat and give it 5 stars. It is written in two voices, those of Vianne and Father Francis, which helps navigate the story through different points of view. The main theme is the conflict between and within contrasted communities, Christian and Muslim, on opposite sides of the river. Vianne uses her intuition, food, and love to bring out the truth behind the divide and weave the town back together again, stronger than before.
The issues brought up in this novel are important, but they are delivered in an intriguing unfoldment, almost like a mystery novel. You don't know until the last fifth of the book the real culprit or issue. Women are at the heart of this story, as well as the fact that wisdom, decency, and compassion know no borders between faiths.
The writing here is strong, replete with lots of similes in the detail as well as over arching metaphor. (However, between the French and Muslim names, it might be even a better read in audio!) If you loved the book or movie Chocolat, don't miss this new novel that takes place in the same town eight years later.