Pumpkin Pear Soup with Sage (Recipe)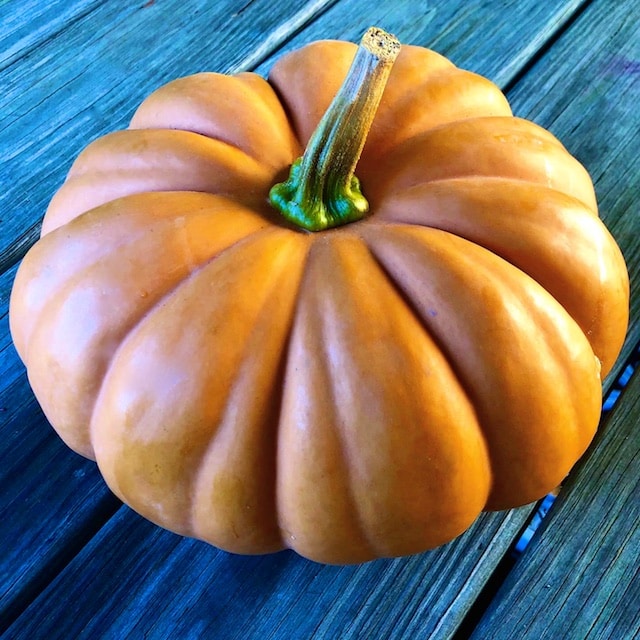 I made this soup on Halloween out of that gorgeous pumpkin shown above. It was delicious! Once all the peeling and chopping is done, it comes together rather quickly. It is a perfect recipe for November and maybe even Thanksgiving. Plus, it is vegan, so everyone can eat it!
Note: Not every pumpkin is an "eating" one. Avoid the jack-o-lantern type and ask your produce person which ones are delicious. This was a type a farmer's market grower recommended to me.
Pumpkin Pear Soup with Sage Recipe
3 ripe pears
2 tbsp olive oil
8 cups cooking pumpkin, peeled, seeded and cut into 1/2-inch cubes
1 yellow onion, finely chopped
2 Tbsp finely chopped fresh sage leaves
1/2 tsp ground allspice
1/2 tsp each sea salt and fresh ground black pepper, plus additional to taste
5 cups vegetable broth
In a 6-qt stockpot on medium-high, heat oil. Add pumpkin and cook, stirring occasionally, for a few minutes.
Add onion and cook, stirring occasionally, for several more minutes.
Stir in diced pear, sage, allspice, 1/2 tsp each salt and pepper and cook, stirring occasionally, about five more minutes.
Add broth, scraping up any browned bits in the pot with a spoon.
Bring to a boil, then reduce to a simmer and cook until pumpkin and pear are very tender, about 8 minutes.
Using a blender, carefully purée soup.
Season with additional salt and pepper.
Serve immediately.
Enjoy!