Our Marriage Bed (New Poem by Polly Castor)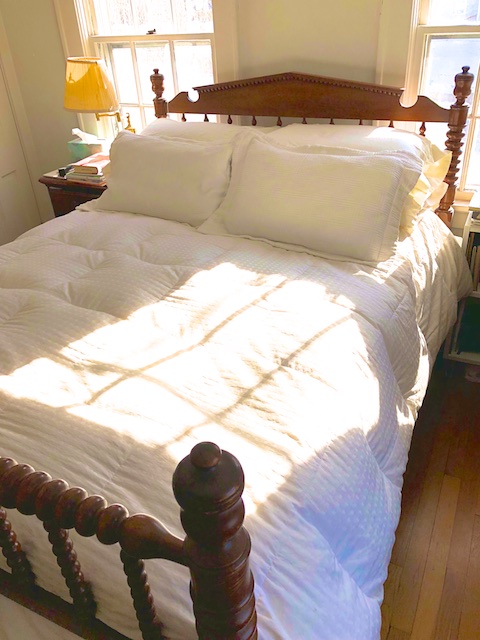 Our Marriage Bed
Our bed is an antique "full,"
rather old fashioned, high up and hard,
with spindles at the head and foot:
it was his grandmother's bed
that he slept in years before me.
He is long and lanky;
I am wider and more curvy.
Neither of us is diminutive,
so this bed is brimming with us,
which is why they call it full.
But when some posh hotel
thinks they are doing us a favor
giving us a sumptuous king-sized oasis
we huddle together, close and clutching
like we might lose each other in the expanse.
Some emphasize a focus on romping sex,
and yes, we have some children,
but I want to champion and commend instead
the marital affection and companionable friendship
that is fostered by a not-too-large bed.
We meander here before time to sleep
to wind down together, unspooling,
all propped up on extra pillows,
silently reading or poking phones,
or animatedly chatting and sharing.
Lights go out to someone settling in
under someone else's wing, head on shoulder
legs braided over and through, shifting later
to croissants tucked together in a bakery,
or nestled spoons caressing on edge in a drawer.
Mornings, one of us usually
slips out before the other,
leaving the lucky languisher the bliss
of all that extra real estate, unmitigated.
But the last one out has to make the bed.
So our marital advice is a crowded bed– full
of kindred tastes, motives, and aspirations,
where anger is squelched for lack of room, and
consideration is bred while unconscious, nurturing
a compounding tenderness that brightens each day.
by Polly Castor
12/29/17
(on our 28th anniversary)