Our Daughter Moves In and Starts at Syracuse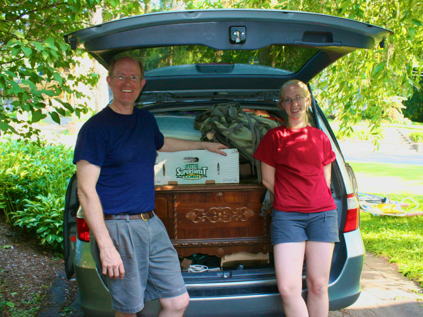 Yesterday and today we have been working hard to settle our daughter in her new apartment in Syracuse.  Her lease begins today and today was also her first day of school. We were grateful to able to start getting her in the day before, but she needed help finishing the move-in task because she is in class from 9 – 5 starting today. Fortunately, both my husband and I were available to help ease this abrupt transition, as there was a lot to do.
It was good to meet our daughter's new roommate, Lucy, who is an international student from Hong Kong by way of McGill University in Montreal, Canada.  We felt great about our daughter's online choice of a roommate; she is perky, intelligent, flexible, respectful, and pleasant to be with.  Both of her parents were on hand to help too, and are warm, lovely people as well.  In parting, Lucy's parents choked up a bit when telling me that they realized that, "parents are the same all over the world."
This was definitely true of us: our motives and intentions were of one accord. I will never forget Lucy's father and my husband working together at long length on the floor, very companionably, to get a bolt back in the landlady's futon in the living room.  This little project took both of their tool boxes and both of their suggestions to solve, and they both stuck with it, never giving in to frustration, nor giving up. Their mutual victory with the couch felt like hope for the world, for if we globally could only get together and work like that with one unified purpose, think what else could come together!
One other incident of note was a problem we had with the Ikea bookcase.  We couldn't find those little pieces of hardware that the shelves fit on.  We had them previously, putting them carefully aside, but now they were nowhere.  We went through everything multiple times, looking everywhere in the apartment, and came up empty handed. These little pieces were essential to unpacking many boxes and we couldn't afford to be stymied.
I paused to pray and immediately the angel thought came that they were in the pile of recycling in the car. My husband went down to look among all the cardboard boxes we had collapsed and did not find them. To his credit he said to himself, "But they must be here because God told Polly they were." (He has confidence in this because he's seen it work so many times before.) So he went though the discarded boxes more carefully, and found the needed hardware stuck to some packing tape inside one of them. We were so delighted to be able to proceed, but also appreciated the reminder that God is ever-present to help with the tiniest details.
In the top two photos you can see the great job my husband did packing the van with our daughter's stuff from home. (She has still left behind a thousand books and a closetful…)  You may remember a recent blog where I got to pack a van load from college that we put in storage; now both of these loads are fused into her new apartment as you can see in the photos below.
In the photos you can see Lucy and her parents with the elderly German landlady, who remarked to me more than once while I was carrying boxes upstairs, "It's amazing what we do for our daughters, isn't it?" She must have done a great job parenting herself, because both her son and daughter are wonderful as well.
I was pleased that our daughter wanted to borrow some of my paintings to decorate the apartment, and I was glad Lucy liked them enough to live with them.  Our daughter is borrowing Buy Organic and Crag for the living room, Amen Ra for the end of the hall by the bathroom, and Spontaneous Combustion for her bedroom. The fifth painting, Phoenix Rising/Dolphin Dreams on the closet in her bedroom, I gave to my daughter in the past when she moved into her house at college.  It is terrific to see my paintings on such large white wall spaces! They look marvelous, don't you think?
In the photo at the bottom of this post, you can see our daughter and her roommate off to their first day as grad students in the Maxwell School of Citizenship and Public Affairs at Syracuse University.  Our daughter has not often been the youngest in any setting – only her freshman year – so getting used to being with an average age of 26 will be something different for her, and the course work is reportedly extremely demanding.  All this will be a big adjustment, stepping first from homeschooling, to a small, seminar style college, and now on to this huge scene that should prepare her for an even bigger one.
We are so very grateful our daughter has such a nice place to live and is attending the top program in her chosen field, which is complete with a good community.  Wishing her every blessing…