Recipe: Heavenly Deviled Eggs with Honey Mustard Dressing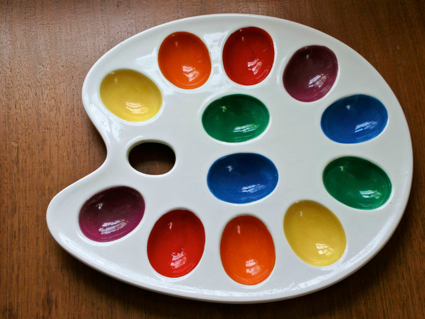 These deviled eggs are so good, I'm posting this recipe today because of a blog reader's request. The recipe makes more dressing than one set of devil's eggs requires. We keep it in the refrigerator to use as dressing (particularly good on Boston or butter lettuce) or use it to later make another batch of deviled eggs.
Don't you love the above plate for them from my Mom? Also, why do they call them "deviled" eggs? It is so inappropriate since these are heavenly! You'll find this recipe especially handy after a big Easter egg hunt, so it's just in time…
Deviled Eggs with Honey Mustard
1/2 cup mayonnaise
3 tablespoons Dijon mustard
2 tablespoons honey
4 teaspoons rice wine vinegar
salt and freshly ground black pepper to taste
6 eggs
paprika (optional)
To boil the eggs, place the eggs in a medium saucepan, making sure they fit in a single layer. Cover with cold water, then the lid, and bring to a full boil over medium high heat. Remove from the heat, and let stand, covered, for 10 minutes. Drain and run cold water over the eggs in the saucepan until the saucepan has completely cooled. Add ice cubes to the water in the pan to cool the eggs as quickly as possible.
To make the dressing, whisk the mayonnaise, mustard, honey, vinegar, and salt and pepper to taste in a small bowl.
Peel the eggs and halve them lengthwise. Remove their yolks and place the yolks in a small bowl. Mash 5 tablespoons dressing into the six yolks to make a smooth filling. Just before serving, spoon a portion of the yolk mixture into each egg white half. Sprinkle with paprika if desired.
Yum! Enjoy!