Recipe: Shrimp Veggie Stir Fry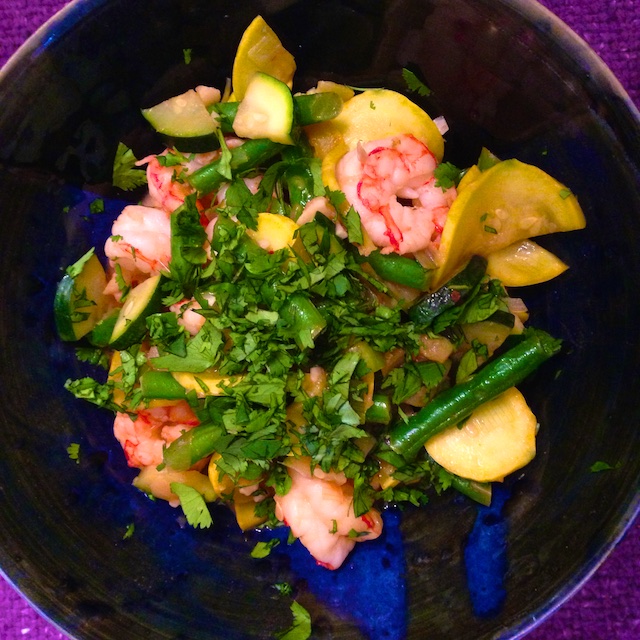 This is delicious and has a lot of flavor without being spicy. It comes together quickly so get everything ready to go before you start cooking.  It makes four servings, so with just the two of us here, I freeze half to have another day when I'm too busy to cook. 
2 tablespoons coconut oil
12 ounces of fresh green beans, trimmed and cut into pieces
2 small yellow summer squash, sliced
2 small zucchini, sliced
24 ounces of raw shrimp, shelled and deveined
4 scallions, chopped both white and green parts
4 garlic cloves, minced
1/2 cup coconut milk
2 tablespoon tamari
1 teaspoon lime zest
4 teaspoons lime juice
2 teaspoons freshly grated ginger
1/4 teaspoon crushed red pepper flakes
6 tablespoons fresh cilantro, chopped
Heat the coconut oil over medium high heat, and then add the green beans, stirring for 1 minute. Add the summer squash and zucchini and stir for two minutes. Add the shrimp, scallions, and garlic and stir until shrimp turn pink and start to curl tighter. Add the coconut milk, tamari, lime zest, lime juice, ginger, and red pepper flakes, and continue to stir for about five minutes until done. Serve topped with the fresh, chopped cilantro.
Enjoy!