Our Daughter's College Ceramics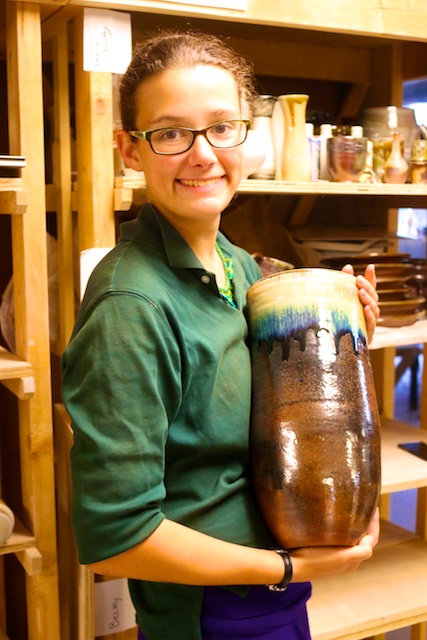 Our youngest daughter has finished her freshman year. This was a really hard term with eighteen credits of difficult classes including this 300 level Intermediate Ceramics class which put her in the pottery studio thirty hours a week.
Above– and close-up in the first photo below– you can see her biggest victory, a colossal vase done on the wheel. She did six such very tall things, which by the way are are extremely hard to do, but unfortunately as you can see below, three cracked badly in the soda kiln due to drafts. You can see her posing with them before she smashes them in the trash. Two others did not crack, but the carefully carved scrafitto designs are hard to see unless you look closely. In the photos I zoomed in to try and show you the remarkable giraffe on one, and rabbits on the other.
Her teapot series came out marvelously well; all are beautiful and pour well. (You saw them initially here before they were glazed.) You can also see her series of two different molded shapes, a small vase and bottle, which she sold a lot of, and made some money. Her cuniform place settings set were also successful, but unfortunately my photos of the plates were not in focus, so they are not shown here.
This represents an amazing amount of work. Kudos to Laura for such a job well done. It is hard for me to fathom that all this was done since January, besides all the work for fifteen other academic credits! Needless to say, she did not sleep much. Next fall I hope she goes easier on herself.
In the last photo, you can see her with the car packed and leaving, exhausted, dirty, and happy. She loves Juniata College and looks forward to returning back to it in the fall. She feels at home there and is learning a lot. Meanwhile, she's got a great summer planned out west: first for two weeks on the Arizona Plateau with an interdisciplinary class from school called enimatically the Remote Field Course, and then eight weeks as a horseback counselor at a camp in the Colorado Rockies.