Book Review: A Bigger Message (Conversations with David Hockney)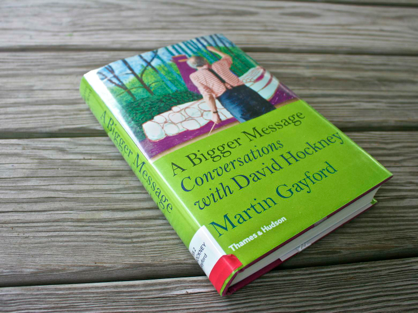 I found this book fascinating and give it five stars. David Hockney's work has spanned a provocative period in the art world, with its changing views and explosion in media, and he has thrived in all that flux. He thinks nothing is more powerful than "images" and works at thinking about that from many angles: drawing, painting, photography, film, theater, opera, technology. Of all these aspects of seeing, he respects most those vehicles for the bigger message that include the artist's perspective and interpretation. He thinks drawing and painting do that best, but photography, video, and technology are helpful tools. He has fully embraced the entire spectrum of technology, painting & drawing on his ipad & iphone ap, and mass producing these original works immediately through email to his entourage.
I drooled over his colossal industrial park studio, and was amazed to hear how he painted absolutely enormous works (as many as 50 large canvases making up one painting) all done in the out-of-doors. I don't love all his work, but a painting entitled Garrowby Hill is one of my all-time favorites.
Has any other artist left such a thorough record of what he's thinking and intending at every stage of his career as this man? Van Gogh had his letters to Theo, while this man gets a conversational relationship with an acclaimed art critic who interviews him, follows him around over time, and studies him like a biographer would, all while he it alive to influence the content!
Here are some bits I enjoyed from the text of these interviews with Hockney:
DH: "Picasso and Matisse made the world look incredibly exciting; photography makes it look very, very dull. Yet now we're moving back to all the stuff that modernism moved away from. We live in an age when vast numbers of images are made that do not claim to be art. They claim to be something much more dubious. They claim to be reality."
DH: "We think that the photograph is the ultimate reality, but it isn't because the camera sees geometrically. We don't. We see partly geometrically but also psychologically."
DH: "I have said that perhaps the big mistakes of the West were the introductions of the external vanishing point and the internal combustion engine… It pushes you away… You're not in the landscape at all. It's all over there… " MG: "You mean the viewer is automatically outside a picture constructed with a single-point perspective? It's made from a fixed point, and so similarly you, the spectator, are fixed?" DH: " "Very, very fixed." MG: So there's no such thing as 'correct' perspective." DH: "No there isn't. Of course there isn't." (Note from me: I wish more people understood that!!)
DH: "Collage itself is a form of drawing. I always thought it was a great, profound invention of the twentieth century."
DH: "Photography is just a blip in a longer history. Now it's coming to an end. We are moving out of what we thought photography was and back to painting."
DH: "Composing a picture is very much to do with what happens at the edges. "
DH: "There's a point where you've got to interpret the world, not make a replica of it."
DH: "Mass media… in that phrase, it's not the 'media' that's crucial, it's the 'mass' part."
DH: "The influence of images shouldn't be underestimated. They always were very powerful, and always will be, and if the 'art world' retreats from them, it becomes a minor activity: the power will be with images… I think the deeper thing is about the shared experience. The big purveyors of images in the past were churches… afterward the images were distributed by by what is known as the media."