Recipe: West African Peanut Soup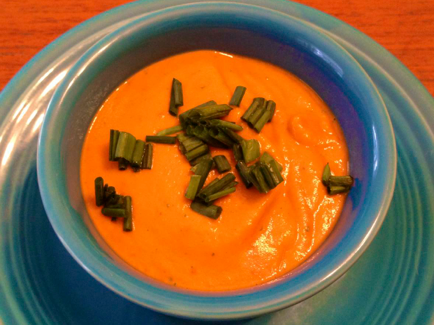 This soup is very delicious, especially on a day like today with ice covering the ground. It is warm and flavorful, smooth and nurturing. One of the most frequently requested dishes at the famous Moosewood restaurant, I recently found this updated version in their new cookbook– see photo below – which I checked out of my local library.
West African Peanut Soup recipe
1 tablespoon olive oil
2 cups chopped onions
1 cup diced celery
1 teaspoon salt
2 tablespoons peeled and grated fresh ginger
1 fresh hot pepper, minced
4 cups peeled, chopped sweet potatoes (about 1 1/2 pounds whole)
3 cups water
3 cups tomato juice
1 cup smooth peanut butter
1/4 cup fresh cilantro
chopped scallions or chives
Warm the oil in a covered soup pot on medium heat. Add the onion, celery, and salt. Cook until softened, stirring frequently, about 15 minutes.
Stir in the ginger and hot pepper. Add the sweet potatoes and water and stir well. Bring to a boil, cover, and simmer for 20 minutes.
Add the tomato juice and peanut butter to the pot. In a blender, in batches, puree the soup until smooth. Add the cilantro and reheat gently. Add more salt to taste, if desired.
Serve topped with chives or scallions. Yum. Enjoy!