Lemon Caesar Dressing Recipe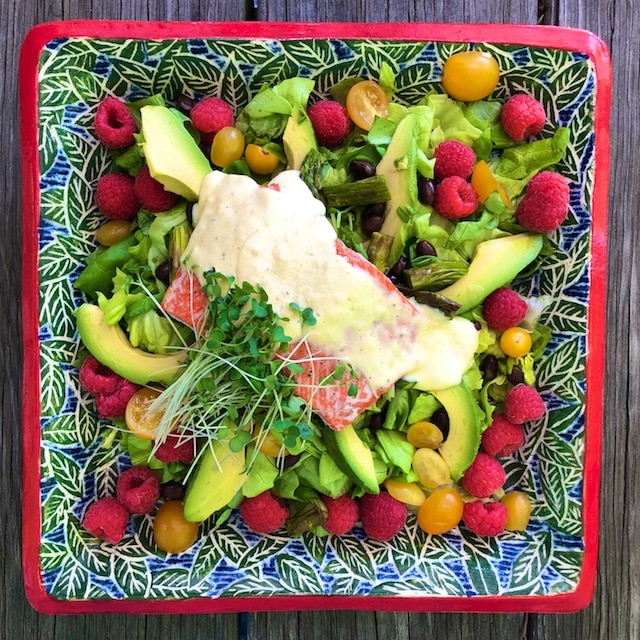 This stuff is potent and wildly delicious! It was for things such as this that I made the Preserved Lemon Recipe, and at that time I prophesied marvels like this dressing. Really, this recipe is worth making the preserved lemons for; they seem very sophisticated, but they are not hard at all to make, so don't be put off.
This "magic elixir" was adapted from a No Crumbs Left recipe. It makes a cup and it's great as a salad dressing, a drizzle over protein, or as a dip for crudités. As you'll see in the photos, I particularly like it for salmon salad.
Lemon Caesar Dressing Recipe
1 large egg, room temperature
3/4 cup avocado oil
2 Tablespoons chopped Preserved Meyer Lemon, pressed through a garlic press
2 anchovy fillets
2 garlic cloves, pressed
2 Tablespoons fresh lemon juice
1/2 teaspoon Dijon mustard
1/2 teaspoon freshly ground black pepper
sea salt
Break the egg into your food processor, and while blending, slowly drizzle in the oil, until emulsified.
Add in the preserved lemon, anchovies, and garlic, and blend again until smooth.
Add in the lemon juice, mustard, and pepper, and blend again.
Taste and season with salt as necessary. If it seems too thick, add a couple Tablespoons of water.
Enjoy!