Making Preserved Lemons (Recipe)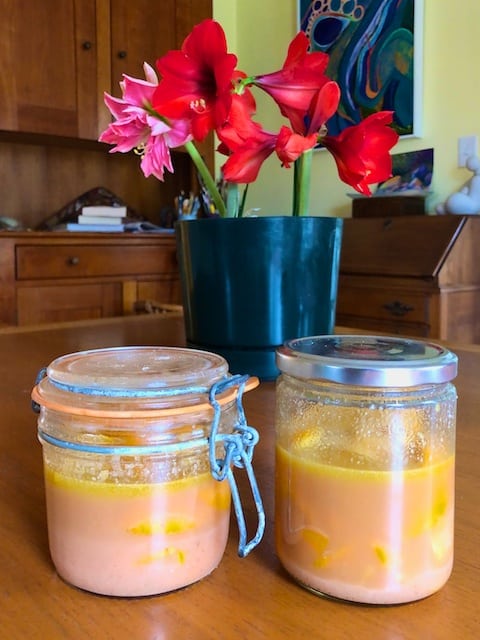 With our whole calendar canceled until further notice, I found the time to try a recipe that I've been wanting to make for a while… preserved lemons. Meyer lemons are best for this. We are essentially making a sophisticated ingredient here, that will make some of our future meals sensational.
I already gave a shout out to the No Crumbs Left cookbook , which is where I got this recipe, although I'm using less salt to make mine than she does, and still, I had some salt left over that I had to dry and use for something else.
This recipe is easy to do, as you'll see. But first, you might want to know why and what for? To use these, take a slice or two of preserved lemon out, mince them and then put them through a garlic press, before adding them to dressings, to mayo for alioli, in a rub for baked salmon, or into tuna fish salad. Add to anything that you want a salty, lemony seasoning in. (I'm putting these on the blog now so that when I make something sensational with these, I can refer you back to this recipe here.)
A little goes a long way, and these are salty, so omit other salt in whatever recipe you add these into.
Preserved Meyer Lemon Recipe
1 cup kosher salt (mine was Himalayan pink)
4 Meyer lemons, cut each into eight wedges
2 Tablespoons extra virgin olive oil
Pour the salt into a small dish, and roll the lemon wedges in the salt until thoroughly coated.
Add 2 Tablespoons of salt in the bottom of a 1 quart mason jar (or like we did, 1 Tablespoon, each, in two pint sized jars).
Add the lemons to the jar, pressing them down with a wooden spoon until covered in their own juice. They must be completely submerged in their own juice, but there also must be a bit of room at the top of the jar to allow the lemons to expand as they soak.
Top the lemons with the olive oil, and put the lid on.
Leave out on the counter for 3 days, gently shaking once a day, then put into the refrigerator.
As long as the lemon pieces are completely covered in their own juice, they will last for six months in the refrigerator.