Dinner Party Recipes (Moroccan Cod Tagine and Honeydew with Pistachios)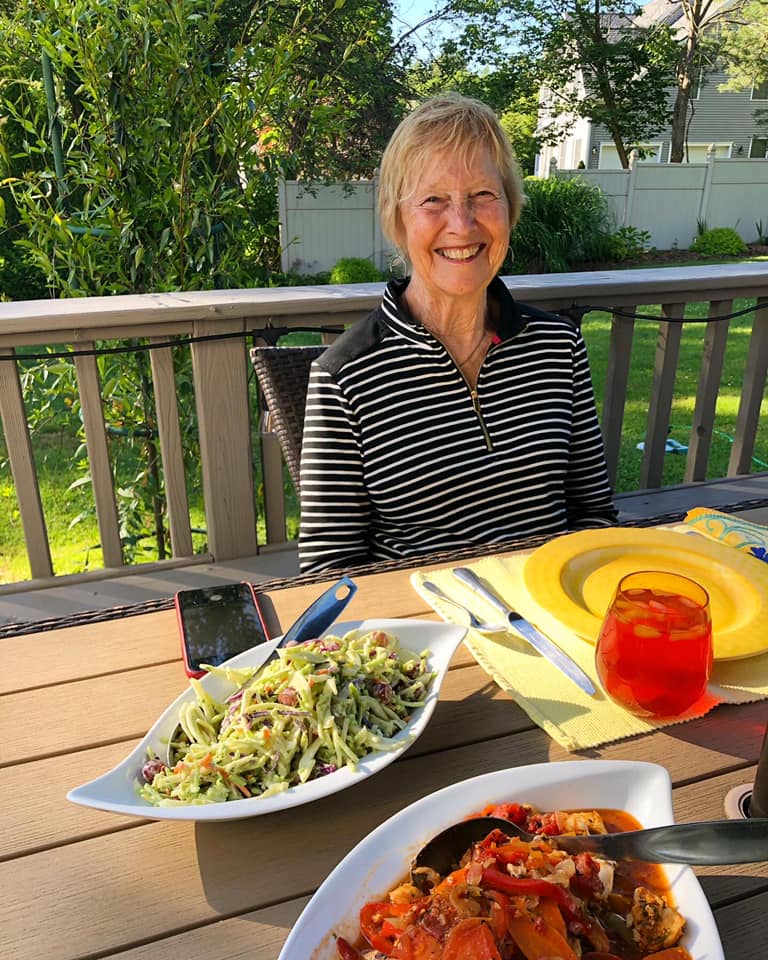 We hadn't gone anywhere but the grocery store or to hike in the woods since March 12. Our friend Loree (caterer of Loree's Fine Foods and your fellow blog reader) invited us over to try some new recipes. I've done the same for her in the past. I'll say something like, "I'm making something I've never done before, want to come over and try it?" She's even used my recipes on occasion for her business.
Since COVID has dried up her event business for the time being, she's been offering home delivery locally here for individual meals. If you are local, this cod is now one of her specials that is available. Be sure to get it!
I wrote the review copy for it: "The tagine was vivid in color and fresh and unique in taste. The cod was succulent, and the accompanying vegetables were perfectly tangy form the lemon and olives. We gobbled it up. Our daughter took three servings. It was so delicious , we want it again!"
So I begged for the recipe! The honeydew mellon was also marvelous and different, so I include that as well. Loree hit these two recipes totally out if the park! This blog is my safest place to find these delicacies again myself and I want be able to eat them again. Meanwhile, you can give them a try. I give you the recipes exactly the way she gave them to me, but just a note, you can use my sugar-free Preserved Lemons in this instead of hers; I know she did because she borrowed some of mine for it!
We were so grateful to get out for a socially distanced, outdoor meal of great food, beautiful weather, and wonderful company. I hope you to are able to find a way to see people again too.
Moroccan Cod Tagine
Recipe By: Loree's Fine Food
Ingredients:
1 1/4 lbs cod filets, cut into 11/2″dice
3/4 tsp table s alt, divided
1/2 cup cilantro, plus ¼ cup chopped
4 cloves garlic, peeled
1/4 tsp cumin
1/4 tsp smoked paprika
1/4 tsp cayenne pepper
1/2TBSP lemon juice
6 TBSP extra virgin olive oil, divided
1 medium onion, halved and sliced through the root end
1 medium red pepper, seeded and diced in ½" dice
1 large carrot, peeled and thinly sliced on the bias
14.5 ounces diced tomatoes
1/3 cup pitted green olives, quartered lengthwise
2 TBSP *preserved lemon, finely minced
24HOUR PRESERVED LEMONS
3 whole lemons, rinsed
3 TBSP sugar
3 TBSP table salt
3/4 cup extra virgin olive oil
Directions:
Place cut up cod in a bowl and toss with ½ tsp. salt. Set aside.
In a food processor fitted with the chopping blade, combine,½ Cup cilantro ,garlic, cumin, paprika, and cayenne until finely chopped. Add lemon juice and 2 TBSP olive oil. St aside in small bowl.
Heat remaining ¼ Cup oil in large dutch oven over medium heat until shimmering. Add onion, pepper, carrot, and remaining ¼ tsp salt. Cook stirring frequently until softened about 5 minutes. Stir in tomatoes and their juices. Add olives and preserved lemon.
Toss cod with cilantro mixture to coat. Arrange the fish over the tomato mixture in a single layer. Cover and cook the cod at medium high until the cod turns opaque 3- 5 minutes. Remove from heat and let rest 3-5 minutes. Sprinkle with remaining cilantro and serve.
PRESERVED LEMONS
Slice lemons thinly,crosswise.
Toss lemons in sugar and salt. Add olive oil.
Transfer lemons to a bowl or pack in a jar. Refrigerate 24 hours or up to 2 weeks.
Notes:
Although there is a lot of prep to this recipe it can all be done well in advance. When your guests arrive, dinner can be completed in 12-15 minutes. Both the lemon juice and the preserved lemon are the key to the sparkling taste.
Honeydew with Pistachios
Recipe By: Loree's Fine Food
Ingredients:
1/3 cup lime juice, fresh
1 whole shallot, thinly sliced
/2 serrano peppers, minced
1 clove garlic, minced
1/2 tsp salt
2` TBSP sugar, (optional)
1 TBSP fish sauce
1 whole honeydew melon, cut into 1″ chunks
5 TBSP cilantro, chopped and divided
5 TBSP mint, chopped and divided
1/3 cup pistachios
Directions:
1. Combine the lime juice and shallot in a food processor fitted with a chopping blade ( or a blender). Add the garlic, serrano, salt, sugar and fish sauce.. Pulse to combine.
2. In a large bowl toss the honeydew with lime marinade. Add ¼ cup cilantro, ¼ cup mint and ¼ cup pistachios. Tos to coat the melon.
3. At serving time, top with remaining cilantro, mint and nuts.
Notes:
I did not separate the cilantro, mint and nuts- I added all the herbs in advance and sprinkled the nuts on top when ready to serve.
Enjoy! And thanks, again, Loree!