Three More Attempts at Making Cups/Mugs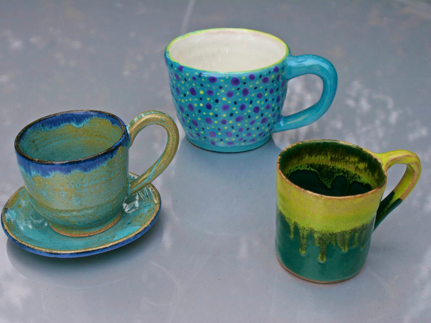 Mug and teacup making is not an exact science. There are aspects of each of these that I like as well as things I do not like about each of them. One of these days, will I be able to make one I like everything about?
The big polka dot one is a good size but way too think and heavy. Still, I'm really happy with my job of glazing it.
The glaze on the green one is interesting enough but the mug shrank a lot and is fit for a toddler or small child.
The teacup is shaped really well and is nice and delicately light weight, but the turquoise glaze came out thinner than I wanted it to be. Also the saucer should have had a formal indentation to rest in…
This is a slow learning process, and I'm not exactly sure what to do with these imperfect products of my discovery process…