Recipe: Roasted Vegetable Salad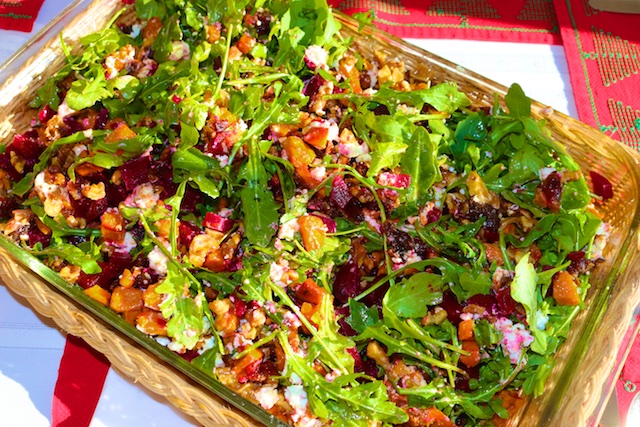 I created this salad for a church potluck Christmas party yesterday. Everyone really liked it and asked for the recipe.
Since the time-consuming parts of this recipe can be done in advance, it is a good choice for a potluck as it comes together quickly the day of the party, which is especially convenient when not coming directly from home. Because of this, these ingredients were served room at temperature, as most salads are, and it was good that way.
Please note that the roasting of the different vegetables can be overlapped for efficiency's sake, but I would use only one rack at a time, because doubling up on more than one rack will vary cooking times. So think in terms of putting the beets in for the whole three hours, and during that time doing the squash, then the garlic, then the walnuts.
A note about beets: I think people don't think they like them because they are not usually cooked long enough. Everyone at the party yesterday that was skeptical about beets liked this, and I think it is because here they are roasted long enough to be very tender. And for those that don't know, Kabocha squash is a green Japanese pumpkin that seems readily available; I got mine at Trader Joes. You can see a photo of one below.
Not knowing what to serve this in, since all the heavier bits would fall to the bottom of a bowl, I put it in our largest pyrex dish and it worked very well that way. The recipe represents making this much, but with the ingredients and dressing prepared, you could put together half of it a couple times, or a quarter of it four times, depending on who you were serving to, and whether you plan it as a main dish or a side dish.
4 large beets, roasted (as below), peeled, and diced
1 Kabocha squash, deseeded, peeled, diced, and roasted (as below)
a large handful of peeled garlic cloves, roasted (as below), and minced
10 Medjool dates, pitted and chopped
3/4 cup walnuts, toasted
10 oz goat cheese (two small packages), crumbled
1 (7oz) package of arugula
Olive oil, coconut oil, salt and pepper for roasting
9 Tablespoons Olive oil (for dressing)
6 Tablespoons white wine vinegar (for dressing)
6 teaspoons honey (for dressing)
1 teaspoon of salt (for dressing)
Preheat the oven to 400ºF.
1.) Roast the beets: Trim off tops and bottoms of the beets and wrap them in aluminum foil with a little olive oil inside and crumple the aluminum foil closed. Place on a roasting dish or cookie sheet and roast for three hours without tending. Remove from oven and allow to cool. When cool, peel the beets, and discard peels. (This can be a bit messy so I do it on a separate cutting surface that is easily cleaned.) Then dice the beets and set them aside until you are ready to assemble the salad.
2.) Roast the squash: After peeling and deseeding the squash, dice it in cubes and toss it in two tablespoons of coconut oil, adding also some salt and pepper. Bake for 35 minutes (can be simultaneous with the beets) until fork tender and just starting to brown. Take out and allow to cool, setting them aside or refrigerating them until time to assemble the salad.
3.) Roast the garlic: for this I use pre-peeled garlic and just grab a good handful of them. Put them in a small pyrex pan tossed with a little olive oil and salt and pepper. Roast them (can be simultaneous with the beets) for about 35-55 minutes, until golden brown and fork tender.
4.) Toast the walnuts (can be simultaneous to the beets) in the oven until fragrant and turning golden.
5.) Make the dressing: mix together the olive oil, the vinegar, the honey, one teaspoon of salt, and the minced roasted garlic. Set aside until the last minute when salad is both assembled and ready to serve. (I don't quite use all of this, but instead of pouring it on the salad, I use a spoon to be sure to get the garlic bits that otherwise fall to the bottom of the dressing.)
6.) Assemble the salad: I do it in layers, each one spread out evenly. First the arugula, then the beets, followed by the squash. I distribute the dates next, followed by the goat cheese, and ending with the walnuts.
7.) When I add the dressing, I stir it slightly to bring up some arugula from the bottom so it is clear it is a salad.
Give it a try! It is a bit of work–although nothing difficult– but oh so worth it. It is truly worth all the satisfying exclamations uttered about it yesterday. Enjoy!