Movie Review: My Life in Ruins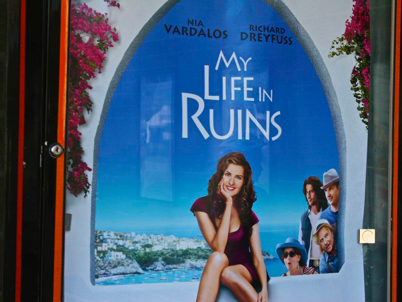 I haven't been out to the movies in eons so this probably added to my enjoyment of this recently released romantic comedy: My Life In Ruins. We were drawn to see it because it has the same lead as My Big Fat Greek Wedding – Nia Vardalos – who is refreshingly not-Hollywood, and also because it takes place at the historical sites in Greece.
The main character, Georgia, is a history professor between jobs, working as an uninspired, rather lousy tour guide. She starts out jaded, able to list off all the nauseatingly classic types in a typical group, and feels no one wants to really learn anything. Her approach is dry and dull, even to her. In the process of this tour, she decides it will be her last before she quits. So she loosens up, with the help of the "crackpot jerk" played by Richard Dreyfuss, and a wooly bus driver. Both of these men have their wisdom to share, and during some silly humor, you start to see Georgia unwind while simultaneously the tour group begins to coalesce. She starts meeting their needs instead of just judging them, which is a new approach for her. By the end, Georgia has really enjoyed herself, and helped everybody have a good time, grow as people, and learn something about Greece and it's heritage. Not to mention falling in love!
The movie probably should be a rated three stars, as it was not profound, amazing, beautiful or deep, but simply a "feel good movie," with both bawdily inappropriate moments as well as sappy ones. Overall, it was rather shallow. But I liked it more than that sounds, partly because I like a good chick flick, partly because I got a tour of Greece out of it, but mostly because I really like stories about transformation, and this tried not only to be a story about the transformation of a character, but of a group as well. Love really is the agent of change every time. Check out the DVD when it comes around for some light entertainment.