Recipe: Emeril's Vegetarian Chili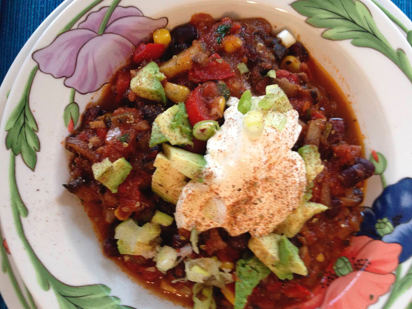 Heads up! This wonderful chili is not to be missed!
I got in a discussion with someone at church who had invited her husband's department over for the holidays. Planning on it being a casual get together she was going to make her chili, but then found out there were vegetarians expected, so she googled a vegetarian recipe to make as well. Emeril from the Food Network had the top google response with five stars, so she made it. During her party, to her surprise, the meat eaters preferred the vegetarian chili, and she was exclaiming that she was a total convert as well.
It just happened that we were having one of the other folks from church who heard that conversation for brunch last Sunday, so I decided we might was well give it a try. Well, now: it is delicious! Very satisfying, not too spicy, interesting and fairly easy to make.
You can read his original recipe here, or make my slightly adjusted version below. You'll be glad you did! It is really good. (And you'll exclaim that several times while eating it… before you go back for seconds, to exclaim some more.)
For the chili:
2 tablespoons olive oil
1 1/2 chopped yellow onions
2 red bell peppers
6 cloves of garlic, minced
2 Serrano peppers, stemmed, seeded, and minced (more if you want it hotter)
1 medium zucchini, diced
2 cups fresh corn
5 large portobello mushrooms, cleaned and cubed
2 tablespoons chili powder
1 tablespoon ground cumin
1 1/4 teaspoon of salt
1/4 teaspoon of cayenne
4 large tomatoes,peeled, seeded, and chopped
3 cups canned black beans, rinsed and drained
1 (15oz) can of tomato sauce
1cup vegetable stock
1/4 cup cilantro leaves
For serving:
Cooked brown rice
Sour cream
Diced avocado
Chopped scallions
& some Creole Seasoning, recipe below:
Creole Seasoning:
5 teaspoons paprika
3 teaspoons salt
3 teaspoons garlic powder
1 teaspoon black pepper
1 teaspoon onion powder
1 teaspoon cayenne
1 teaspoon dried oregano
1 teaspoon dried thyme
I assembled these in a shaker, for self-service garnish/seasoning on the top)
Directions:
Make the rice first, for the rest comes together quickly.
Heat oil in large heavy-bottomed pot over medium high heat and cook the onions, bell peppers, garlic and Serrano peppers, until soft, about 3 minutes.
Add the zucchini, corn and mushrooms, stirring often, until beginning to brown and the mushrooms have released their juices (about 6 minutes).
Add the chili powder, cumin, salt and cayenne, and stir. Add the tomatoes, beans, tomato sauce, vegetable stock, and bring to a boil. Reduce heat to medium low and simmer, stirring occasionally, for about 20 minutes.
Remove from heat and add the cilantro.
To serve, place a 1/4 cup brown rice in the bottom of each bowl, and layer the chili over it. Top each with some sour cream and avocado. Sprinkle with the chopped scallions and the Creole seasoning.
Serve immediately.
Enjoy! Yum!